My favorite time to add copyright and contact information for pictures is when I import them. You can do this in Capture One Pro by creating and applying a metadata preset. I've established one that contains my name, copyright, contact city, website, and usage terms. If you'd like to see how that's done, take a look at this instructional video.
Now that I have the metadata preset created, I can apply it during import using Styles. The Styles popup menu is located in the Adjustments area of Capture One's import dialog. Click on it and choose User Presets > Metadata > [your preset].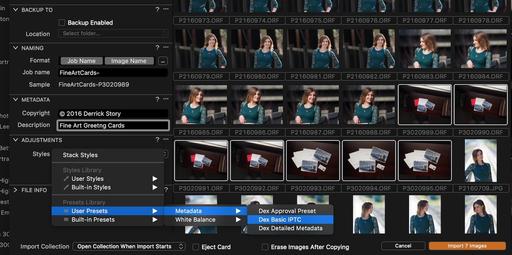 Your contact information will be added to the images as they are imported. Plus, this setting is sticky, so it should remain enforce for your next import too. There's no better time to add metadata than at the very beginning of the workflow.
More Capture One Pro Tips and Techniques
Improve your skills by watching Capture One Pro Essential Training now available on lynda.com. More than 5 hours of tips, tricks, and techniques. Plus many free movies using advanced techniques.
Thinking About Making the Transition from Aperture or Lightroom? - Download my free eBook titled, Rocky Nook's Guide to Moving to Capture One Pro. I show you the steps to create a test library, then build the foundation for a smooth transition to Capture One Pro.
Want to Comment on this Post?
You can share your thoughts at the TDS Facebook page, where I'll post this story for discussion.