One of the reasons why I continued using Aperture after Apple ceased development, was because I was fond of the plugins I had acquired for it.
As I became more familiar with Capture One Pro, however, I learned that I might not be giving up all that much after all, especially for Black & White photography. Two reasons for that: 1) The Black & White converter image adjustment, and 2) Styles presets.
Black & White Converter Tool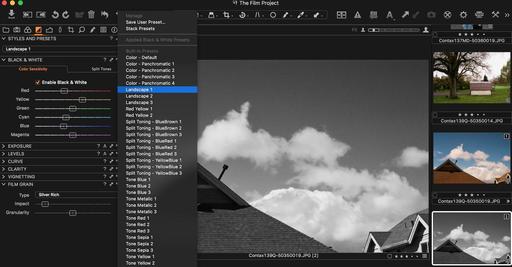 The adjustment sliders for B&W conversion are very good. But the kicker is all of the presets loaded in to the application. So you can browse the different looks, pick one you like, and then fine tune from there. Here's a video on how that works.
As a finishing touch, take a look at the Film Grain tool. There are a variety of great effects there, including my favorite, Silver Rich.
Film Emulation Styles
There are also some wonderful commercially available Styles that you can download, such as Capture One Styles that load a variety of effects right in to your application.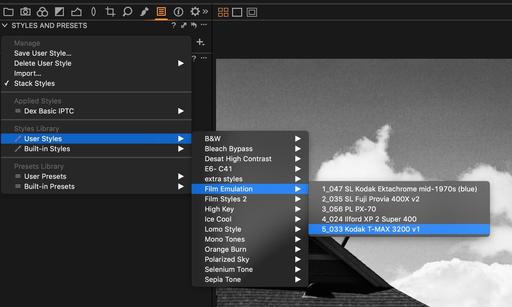 The nice thing about these is that they don't disrupt the RAW workflow. My previous Aperture plugins required that I converted files to TIFFs and then roundtrip them. With Styles, everything stays in RAW and in the host application.
Thanks to these features, I'm discovering that there is indeed, life after Aperture plugins.
More Capture One Pro Tips and Techniques
Improve your skills by watching Capture One Pro Essential Training now available on lynda.com. More than 5 hours of tips, tricks, and techniques. Plus many free movies using advanced techniques.
I've also created a dedicated Capture One Pro Training page on The Digital Story. You can follow all of the tips and techniques that I publish in one convenient spot.
Thinking About Making the Transition from Aperture or Lightroom? - Download my free eBook titled, Rocky Nook's Guide to Moving to Capture One Pro. I show you the steps to create a test library, then build the foundation for a smooth transition to Capture One Pro.
Want to Comment on this Post?
You can share your thoughts at the TDS Facebook page, where I'll post this story for discussion.