This is The Digital Story Podcast #560, November 29, 2016. Today's theme is "Thoughts from 5 Conservation Photographers." I'm Derrick Story.
Opening Monologue
On November 15 and 16, I spent two days in the company of some of the best conservation photographers in the world. During that time, I photographed them, recored segments from their talks, and even sat down for an interview at the Carnegie Institution for Science in Washington D.C. And today I'm going to share highlights from those two days with you, so you too can be a part of this amazing conference called WildSpeak 2016.
This show is supported in part by MindShift Gear, who proudly sponsors the iLCP in their mission to protect our planet and it's resources through photography.
Additional funding was contributed by Red River Paper, who supports The Digital Story from California to the East Coast, and everywhere in between.
And a special thanks to members of our Inner Circle, who have pledged through Patreon, enabling me to bring shows like this to all of our listeners.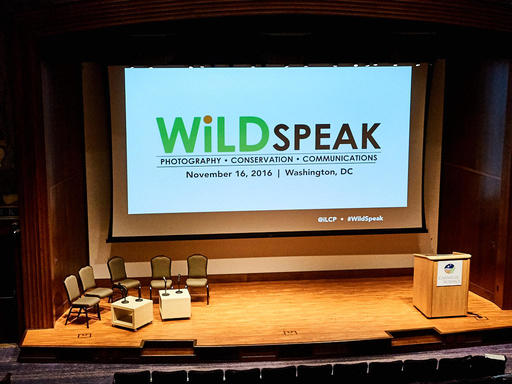 Thoughts from 5 Conservation Photographers
Today's show features thoughts from seven important conservation photographers: Amy Gulick, Chris Linder, Daniel Beltra, Sandesh Kadur, and Robin Moore. Audio and interview were recorded at WildSpeak 2016 at the Carnegie Science Center in Washington D.C. I hope you enjoy the show.
See you next week!
More Ways to Participate
Want to share photos and talk with other members in our virtual camera club? Check out our Flickr Public Group. And from those images, I choose the TDS Member Photo of the Day.
Podcast Sponsors
MindShift Gear - MindShift Gear is a group of committed professional photographers and product designers who support conservation and protection of our natural resources and planet.
Red River Paper - Keep up with the world of inkjet printing, and win free paper, by liking Red River Paper on Facebook.
The Nimbleosity Report
Do you want to keep up with the best content from The Digital Story and The Nimble Photographer? Sign up for The Nimbleosity Report, and receive highlights twice-a-month in a single page newsletter. Be a part of our community!
Want to Comment on this Post?
You can share your thoughts at the TDS Facebook page, where I'll post this story for discussion.