Luminar Pluto features the new Dehaze and the Golden Hour filters, plus it adds batch processing. I loaded up a holiday photo to take a look at these new features.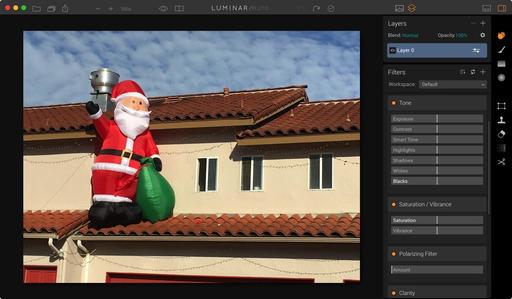 In the original shot, Santa indeed looks jolly. But he lacks that little extra warmth.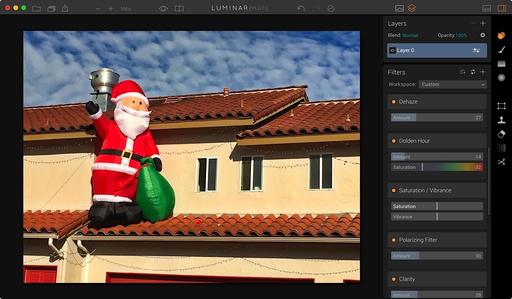 Santa after Dehaze, Golden Hour, and Polarizer filters in Luminar.
I edited the photo in both the standalone version and the editing extension for Photos for macOS version of Luminar, and they worked equally well in both. Very nice additions to an already powerful image editor.
Luminar Pluto is a free upgrade for existing users. If you haven't secured your own copy of Luminar yet, there is a terrific holiday offer that gets you a full copy of Luminar for $59 (with all plugins and the editing extension), plus four bonuses, including 373 Sky Overlays (perfect for the Image Layer function in Luminar) and a Creative Portraits Preset Pack. All four bonuses are included with Luminar at the $59 price.
Want to Use Luminar as an Editing Extension for Photos for macOS?
Explore the world of modern photography with my The Apple Photos Book for Photographers that features insightful text and beautiful illustrations, including ample coverage of its robust editing extensions.
And if you'd like to cozy up to a video at the same time, watch my latest lynda title, Photos for macOS Essential Training
You can share your thoughts at the TDS Facebook page, where I'll post this story for discussion.