This is The Digital Story Podcast #623, Feb. 20, 2018. Today's theme is "Should Our Cameras Be as Smart as Our Phones?" I'm Derrick Story.
Opening Monologue
I've been thinking about how the camera industry could better combat the encroaching smartphone phenomenon that is eroding their marketshare. Should Nikon, Canon, Sony, Olympus, and Fuji tap computational photography for their devices? Or would another approach make more sense? I address this issue on today's TDS podcast.
Should Our Cameras Be as Smart as Our Phones?
I was up early shooting on Sunday morning. The air was crisp and clear, and the breeze hadn't kicked up yet. So off I went with my iPhone X, Pentax KP DSLR, and Olympus PEN mirrorless.
My experience changed noticeably as I switched from camera to camera. Standing there in the middle of a vineyard, the most visually delicious visuals were looking through the optical viewfinder of the Pentax DSLR. Everything was so beautiful, and it inspired me to compose the best shots possible.
The electronic viewfinder on the PEN-F was also satisfying, but in a different way. It was like I was in a darkened theater watching the scene on a screen. And it had the advantage of presenting me with realtime exposure compensation feedback.
The iPhone was the least satisfying. Seems like composing on its amply-sized LCD should have been engaging. But I found it far less inspiring than my dedicated cameras.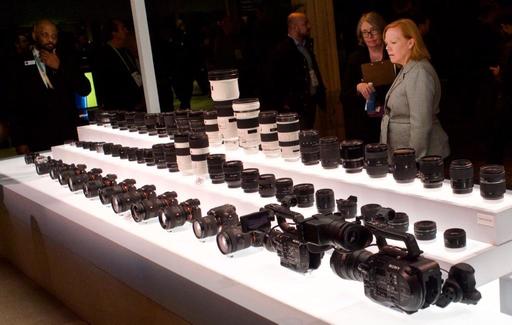 This got me thinking about approaches that camera companies, and you and me, could take when encouraging aspiring artists to add a dedicated camera to their toolset. Here are my five favorites.
Emphasize your strengths. Create viewing experiences that can't be matched on a smartphone.

Continue to develop tempting lens options, and possibly create more interchangeability among brands. Look how well Olympus and Panasonic have fared by doing so.

Add a computational photography mode to help those making the transition from smartphones to cameras. I know there are scene detection modes now, but they pale in comparison to what we experience with mobile devices.

Don't try to compete on the selfie level, emphasize important life events such as travel, weddings, and art.

Continue to explore the design aesthetic. Smartphones are hampered by the need to fit slimly in one's pocket. But cameras have far more latitude with design, and that should be tapped.
Becoming smarter is only part of the answer. Camera manufacturers have so many assets they can leverage. They just need to focus.
Come Join me at the Skylum Photography Public Group
I'm now moderating the Skylum Photography Public Group, and I would love to have interested members from our audience join me there.
The San Francisco Street Photography Workshop Update
I've published an informative article on the San Francisco Street Photography Workshop that you may want to take a look at.
San Francisco Street Photography - April 26-28, 2018 - We'll work entirely on location in San Francisco. Our hotel in picturesque Union Square will serve as our headquarters during the event. No rental car will be necessary. We'll explore the City's hidden treasures and capture them through our lenses. As always, we're adding new shooting locations again this year, including twilight assignments. This is San Francisco like you've never seen it before. And as a bonus, Olympus Visionary Mike Boening will be joining the teaching staff and leading sessions on street shooting and night photography. Two instructors, three days, and all for just $695. (That's right, it's 3 full days in one of the most photogenic cities in the U.S.)
New! TheFilmCameraProject on Instagram
I've started a new Instagram feed just for film camera lovers. It's called TheFilmCameraProject, and it's for those who appreciate the beauty of analog SLRs.
And to celebrate the launch, I'm giving away one Pentax SLR and lens to one lucky follower of TheFilmCameraProject. All you have to do is follow the feed by Feb. 28, 2018. I'll then do a random drawing and announce the winner on the March 6 podcast. Join in the fun, and get to admire some really beautiful camera along the way.
Coming Up: Build Your Digital Darkroom with Photos
Our next Nimble Classroom is on March 10, Build Your Digital Darkroom with Photos. Here's why you might want to attend.
Updates and Such
I now have the dates for the Sonoma Country Hot Air Balloon and Drone Photography Workshop, June 8-10, 2018. We're combining two very fun aerial activities into one workshop. Be sure to get on the Reserve List for this one!
You can become a member of our Inner Circle by clicking on this link or by clicking on the Patreon tile that's on every page of The Digital Story.
B&H and Amazon tiles on www.thedigitalstory. If you click on them first, you're helping to support this podcast. And speaking of supporting this show, and big thanks to our Patreon Inner Circle members:
And finally, be sure to visit our friends at Red River Paper for all of your inkjet supply needs.
See you next week!
More Ways to Participate
Want to share photos and talk with other members in our virtual camera club? Check out our Flickr Public Group. And from those images, I choose the TDS Member Photo of the Day.
Podcast Sponsors
Videoblocks - Go to videoblocks.com/digitalstory to get all the stock video, audio, and images that you can imagine for just $149. Save on millions of studio-quality clips, tracks, and graphics.
Red River Paper - Keep up with the world of inkjet printing, and win free paper, by liking Red River Paper on Facebook.
The Nimbleosity Report
Do you want to keep up with the best content from The Digital Story and The Nimble Photographer? Sign up for The Nimbleosity Report, and receive highlights twice-a-month in a single page newsletter. Be a part of our community!
Want to Comment on this Post?
You can share your thoughts at the TDS Facebook page, where I'll post this story for discussion.