This is The Digital Story Podcast #635, May 15, 2018. Today's theme is "The Right Drone for You - An Interview with Mike Boening" I'm Derrick Story.
Opening Monologue
Ever since I read about the new Mavic Air, I have wondered if I should replace my beloved Spark. To help me decide, I called up my friend and drone enthusiast Mike Boening to discuss the latest in quadcopters, their accessories, and a few important flying tips. I also recorded it to share with you on this week's TDS Podcast.
"The Right Drone for You - An Interview with Mike Boening"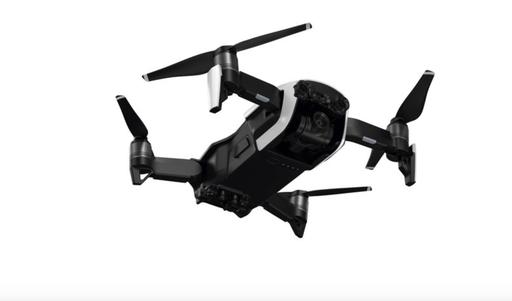 Mike and I get to the bottom of the question: "Should I replace my DJI Spark with a new Mavic Air?
The Portfolio Project - Week 2 - Portraits of Women
The latest gallery that I added to my Portfoliobox project is Portraits of Women.
My thinking was that I have all these galleries that I've produced for these women, wouldn't it be fun to pick one image from each of my favorites, and build a Portfoliobox page with those shots? And the answer is: it was very fun.
As with my first gallery, the bulk of the work was deciding which shots I wanted to feature in the portfolio. Once I made those decisions, I put the gallery together in Portfoliobox in just a few minutes. I love using their service for these reasons:
My images look great, both on my computer and on my mobile devices.
It's easy to use. Without any instruction, I built my first two pages in under an hour. I will be adding a page a week throughout May.
It's affordable. There's a free plan and a Pro version. The Pro version is only $82.80 per year or $8.90 per month USD, and that's before the 20 percent TDS discount.
Highlights with the Pro Plan
In addition to unlimited pages, you get a personalized domain name, web hosting, and up to 1,000 images.
Get Started Today
Just go to the TDS Landing Page to get started with your free account, or to receive the 20 percent discount on the Pro version. And if you want to see the page that I've begun, visit www.derrickstoryphotography.com.
Great Online Training Titles for Efficient Learning
I have some terrific photography titles on both LinkedIn Learning and lynda.com. You may want to visit my lynda.com Author Page or my LinkedIn Learning Author Page. Here's a look at some of the titles waiting for you.
Capture One Pro 11 Essential Training
Luminar Essential Training
Photos for macOS High Sierra Essential Training
Dropbox for Photographers
Sharing Photos with Flickr
A Photographer in Cuba
High School Seniors Portrait Photography
Signed Print Giveaway - If you watch one chapter for any of my training videos on lynda.com or LinkedIn Training during the month of May, send me a notification after the viewing via the Contact Form on The Nimble Photographer. (You can sign up for a free trial on lynda.com.) Just say, "I watched a chapter on lynda.com or LinkedIn Learning!"
You name will be entered into a drawing for a signed print from the Maui Project. The lucky recipient will be announced on the June 5, 2018 podcast. (Promotion ends on May 31, 2018. Void where prohibited.)
Aerial Photography Workshop
Public registration is now open for the Sonoma Country Hot Air Balloon and Drone Photography Workshop, June 8-10, 2018. We're combining two very fun aerial activities into one workshop. Be sure to get on the Reserve List for this one!
Reservation Forms have been sent for the Burney Falls and Lassen Volcanic National Park Workshop
We have our cabin reservations secured for Sept. 27-29, 2018 for the Burney Falls and Lassen Volcanic National Park Workshop. I sent out reservation forms this last weekend. So if you are on the reserve list, you should have received an invite.
Updates and Such
You can become a member of our Inner Circle by clicking on this link or by clicking on the Patreon tile that's on every page of The Digital Story.
B&H and Amazon tiles on www.thedigitalstory. If you click on them first, you're helping to support this podcast. And speaking of supporting this show, and big thanks to our Patreon Inner Circle members:
And finally, be sure to visit our friends at Red River Paper for all of your inkjet supply needs.
See you next week!
More Ways to Participate
Want to share photos and talk with other members in our virtual camera club? Check out our Flickr Public Group. And from those images, I choose the TDS Member Photo of the Day.
Podcast Sponsors
Red River Paper - Keep up with the world of inkjet printing, and win free paper, by liking Red River Paper on Facebook.
Portfoliobox - Create the site that your best images deserve by visiting Portfoliobox. And get a 20 percent discount by using our landing page!
The Nimbleosity Report
Do you want to keep up with the best content from The Digital Story and The Nimble Photographer? Sign up for The Nimbleosity Report, and receive highlights twice-a-month in a single page newsletter. Be a part of our community!
Want to Comment on this Post?
You can share your thoughts at the TDS Facebook page, where I'll post this story for discussion.