This is The Digital Story Podcast #640, June 19, 2018. Today's theme is "The Fascinating ProGrade Digital Story." I'm Derrick Story.
Opening Monologue
How many times have you thought to yourself at work, "If I was in charge, we would do things much differently."? Industry veteran Wes Brewer, who spent years working with SanDisk and Lexar, got his chance to do exactly that. And the result of that effort is a new company called ProGrade Digital. We learn about their story in today's TDS photography podcast.
"The Fascinating ProGrade Digital Story"
ProGrade CEO Wes Brewer had seen just about all there is to see in the Flash storage industry. He was at SanDisk when the Extreme series was developed. And he was at Lexar during the coming and passing of the Micron ownership. And now he's the chief executive office of ProGrade Digital.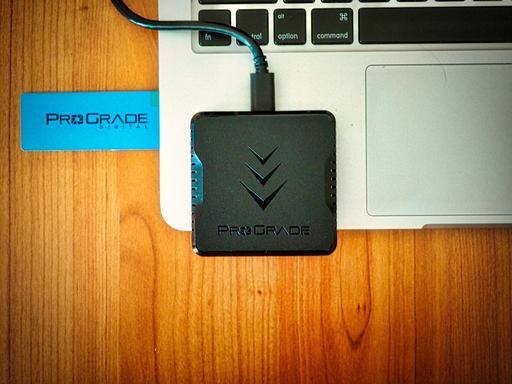 Wes and I sat down for a chat over Skype where we discussed his observations about the industry in general, and ProGrade Digital specifically. We talked about the ins and outs of Flash storage, and how ProGrade Digital is positioning themselves to be the company that serious enthusiasts and professionals want to work with.
I think you will enjoy this conversation.
The Portfolio Project - Week 7 - Tom Bodley Photographs
Tom Bodley is our featured photographer this week with his Portfoliobox site, www.tombodleyphotography.com.
"Derrick - I very much enjoyed your recent podcast on the future of Adobe LR, and the introduction to Portfoliobox. I signed up for a pro account and set up a few galleries to share at tombodleyphotography.com.
I have been using Squarespace, but find it kind of clunky, and not really suited for photography. Right out of the box I find Portfoliobox to be far superior--many thanks for the tip! I intend to add a few more galleries to my site (Japan, Columbia Icefield Parkway, etc). "
Tom has wonderful images of Alaska and Yellowstone. But my favorite page is the featuring birds. Some very cool shots there. I hope you view them for yourself.
If you've signed up for a Portfoliobox Pro account, and have published at least one page, then send me the link to that site. Use the Contact Form on the Nimble Photographer and provide your name, the link, and the subject of the page or site you've published.
I'm also building a directory of user sites and publish it on TheDigitalStory. And all through the month of June, I will feature one of those sites on this podcast.
I love using Portfoliobox for these reasons:
My images look great, both on my computer and on my mobile devices.
It's easy to use. Without any instruction, I'm adding a high quality page in just minutes.
It's affordable. There's a free plan and a Pro version. The Pro version is only $82.80 per year or $8.90 per month USD, and that's before the 20 percent TDS discount.
Highlights with the Pro Plan
In addition to unlimited pages, you get a personalized domain name, web hosting, and up to 1,000 images.
Get Started Today
Just go to the TDS Landing Page to get started with your free account, or to receive the 20 percent discount on the Pro version. And if you want to see the page that I've begun, visit www.derrickstoryphotography.com.
The Compact, Affordable Olympus 30mm f/3.5 Macro
I published a quick hands-on review of the Olympus 30mm macro lens. This is a wonderfully compact and affordable optic. It's available at B&H for only $240 with free shipping. What a great value!
Reservation Forms have been sent for the Burney Falls and Lassen Volcanic National Park Workshop
We have our cabin reservations secured for Sept. 27-29, 2018 for the Burney Falls and Lassen Volcanic National Park Workshop. I sent out reservation forms this last weekend. So if you are on the reserve list, you should have received an invite.
Updates and Such
You can become a member of our Inner Circle by clicking on this link or by clicking on the Patreon tile that's on every page of The Digital Story.
B&H and Amazon tiles on www.thedigitalstory. If you click on them first, you're helping to support this podcast. And speaking of supporting this show, and big thanks to our Patreon Inner Circle members:
And finally, be sure to visit our friends at Red River Paper for all of your inkjet supply needs.
See you next week!
More Ways to Participate
Want to share photos and talk with other members in our virtual camera club? Check out our Flickr Public Group. And from those images, I choose the TDS Member Photo of the Day.
Podcast Sponsors
Red River Paper - Keep up with the world of inkjet printing, and win free paper, by liking Red River Paper on Facebook.
Portfoliobox - Create the site that your best images deserve by visiting Portfoliobox. And get a 20 percent discount by using our landing page!
The Nimbleosity Report
Do you want to keep up with the best content from The Digital Story and The Nimble Photographer? Sign up for The Nimbleosity Report, and receive highlights twice-a-month in a single page newsletter. Be a part of our community!
Want to Comment on this Post?
You can share your thoughts at the TDS Facebook page, where I'll post this story for discussion.