This is The Digital Story Podcast #653, Sept. 18, 2018. Today's theme is "iPhone XS: It's Nice, But I Don't Need It." I'm Derrick Story.
Opening Monologue
Last Wednesday during the Apple event, I pulled the iPhone X out of my front pocket, examined the screen and camera lens, and said to myself, "I'm good." The device is doing exactly what I need it to do: take good pictures, help manage my life, and provide a little entertainment. And other than a few minor tweaks, the iPhone XS does the same thing. Am I missing something by not upgrading? We'll explore further on today's show.
iPhone XS: It's Nice, But I Don't Need It
After 10 months of very enjoyable use, my iPhone X still has 216 GBs of free space. The battery life is excellent, lasting me a full day when needed. (I don't charge it all night anymore, only as needed during the day.) And other than its one weird quirk of taking screenshots when I don't intend to (opposite button syndrome), I truly enjoy using it.
But to be empirical as well, I looked up the specs and comparisons for the just-announced iPhone XS to evaluate my opinion. Here are the highlights.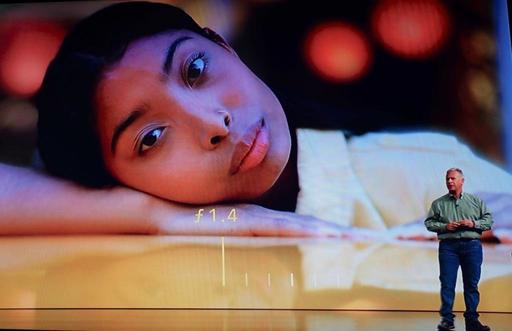 Size and Weight: They are virtually the same.
Screen type and resolution: same. But the XS has better dynamic range.
Processor: A12 vs A11: iPhone XS - Apple A12 'Bionic' chipset: Six-Core CPU, Six Core GPU, M12 motion coprocessor, 4GB RAM. iPhone X - Apple A11 'Bionic' chipset: Six-Core CPU, Six Core GPU, M11 motion coprocessor, 3GB RAM
Camera resolution: same (12MP/7MP) - But the XS has a new sensor with bigger photo sites.
New computational photography offerings on the XS, such as Smart HDR, enhanced bokeh effect, and depth control.
Speakers: XS has 25 increase in speaker volume and stereo support
SIM support: XS has eSIM to share work/home or home/roaming numbers in a single device. The X does not.
Slightly better battery life for XS
Gold case offering for XS.
So, since my iPhone X is in such good shape and performing well, I'm good. Plus, I kind of like having the 10 year anniversary handset. If I had an older iPhone, I would indeed be tempted by the iPhone XS.
The Portfoliobox Featured Image
Have you visited our TDS Facebook Page in the last few days? If so, what do you think of the beautiful image from Morocco by Jay Tuttle as the featured banner? Maybe yours will be next?
Each week for the month of September, I'm going to feature a PortfolioBox Pro image as the banner for our TDS Facebook Page. I will select the image from my list of TDS PortfolioBox Pro users, and include the photographer's name and link.
If you've signed up for a Portfoliobox Pro account, and have published at least one page, then send me the link to that site. Use the Contact Form on the Nimble Photographer and provide your name, the link, and the subject of the page or site you've published. I will add it to our PortfolioBox Pro Directory.
I love using Portfoliobox for these reasons:
My images look great, both on my computer and on my mobile devices.
It's easy to use. Without any instruction, I'm adding a high quality page in just minutes.
It's affordable. There's a free plan and a Pro version. The Pro version is only $82.80 per year or $8.90 per month USD, and that's before the 20 percent TDS discount.
In addition to unlimited pages, you get a personalized domain name, web hosting, and up to 1,000 images.
Get Started Today
Just go to the TDS Landing Page to get started with your free account, or to receive the 20 percent discount on the Pro version. And if you want to see the page that I've begun, visit www.derrickstoryphotography.com.
Cleaner Audio with SoundSoap
Here is a nifty application for vloggers who need to process and post their content quickly. SoundSoap can help you with:
Fix background noises
Fix low volume
Fix hum problems
Fix low/rumble sounds
Drag & Drop popular formats
No loss of video quality
Works automatically
I was up and running immediately with it. The learning curve is about 5 minutes. And for audio processing software, it's affordable. There are different versions of the app, but I'm using SoundSoap Solo 5 (Mac and Windows) that costs $79. You can purchase it from their website. I downloaded mine from the Mac App Store because it's a more convenient way to manage my software.
The bottom line is that for fast-moving video projects where you want the best sound possible, SoundSoap is an essential component of the workflow. It's fast, affordable, easy to use, and works great.
Inner Circle Members: New York Fine Art Greeting Cards
My latest printing project is creating a set of 6 fine art greeting cards from my trip to New York. Inner Circle members, not only can you help me choose the final images, but by doing so, you become eligible to win a free set of the cards.
Starting last week, I published two images on our Inner Circle site. Post a comment as to which one you prefer best, and you are automatically entered in the drawing. We'll do this once a week throughout September. At the end of each week, I'll randomly choose a name from the comments and send them a completed set of fine art cards once they are finished. This week's winner is: Bill Riski.
If you want to participate, you can become a member of our Inner Circle by clicking on this link or by clicking on the Patreon tile that's on every page of The Digital Story.
Updates and Such
B&H and Amazon tiles on www.thedigitalstory. If you click on them first, you're helping to support this podcast. And speaking of supporting this show, and big thanks to our Patreon Inner Circle members:
And finally, be sure to visit our friends at Red River Paper for all of your inkjet supply needs.
See you next week!
More Ways to Participate
Want to share photos and talk with other members in our virtual camera club? Check out our Flickr Public Group. And from those images, I choose the TDS Member Photo of the Day.
Podcast Sponsors
Red River Paper - Keep up with the world of inkjet printing, and win free paper, by liking Red River Paper on Facebook.
Portfoliobox - Create the site that your best images deserve by visiting Portfoliobox. And get a 20 percent discount by using our landing page!
The Nimbleosity Report
Do you want to keep up with the best content from The Digital Story and The Nimble Photographer? Sign up for The Nimbleosity Report, and receive highlights twice-a-month in a single page newsletter. Be a part of our community!
Want to Comment on this Post?
You can share your thoughts at the TDS Facebook page, where I'll post this story for discussion.