This is The Digital Story Podcast #666, Dec. 18, 2018. Today's theme is "A Visit to Mom's." I'm Derrick Story.
Opening Monologue
Every year at this time, I like to talk about the importance of photography during family gatherings. This year, instead of just discussing it, I'm bringing you along to a visit at my Mom's house in Southern California. We're going to ask her about the importance of family, photography, and staying in touch with your roots. I hope you enjoy the show.
A Visit to Mom's
There's 8 hours of highway between my Mom's house and mine. I don't make the trek as often as I should, and she will probably mention that during our chat. But seeing her is very important to me, and I look forward to our visits.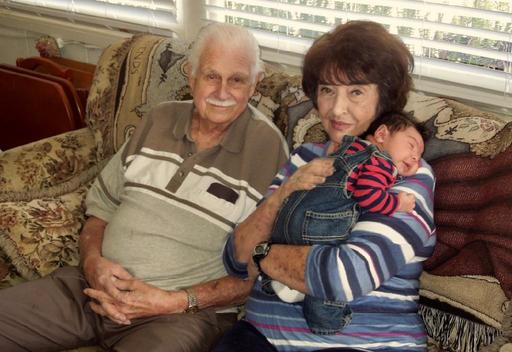 I thought listening to her perspective about the holidays and family would be interesting to the family historians in our podcast audience. I hope you enjoy our visit, sitting around the family table that I've know since childhood.
The Portfoliobox Inspirational Photographer
I got to thinking about some of the great PortfolioBox photographers out there, and how they could inspire us both artistically, but also in terms of our presentation online. So I started digging.
Each week for the month of December, I'm going to feature an inspirational photographer who uses Portfoliobox as his/her platform for presenting their work. This week I want to point you to www.luigiquarta.com/. Luigi Quarta is a conceptual photographer, who uses photography as a means of expression to represent concepts, feelings, and moods.
He writes about Portfoliobox, "Portfoliobox has a modern design that I like a lot and is very easy to use. It's really a great platform to open your personal website."
If you've signed up for a Portfoliobox Pro account, and have published at least one page, then send me the link to that site. Use the Contact Form on the Nimble Photographer and provide your name, the link, and the subject of the page or site you've published. I will add it to our PortfolioBox Pro Directory.
To create your own Portfoliobox site, click on the tile or use this link to get started. If you upgrade to a Pro site, you'll save 20 percent off the $83 annual price.
Luminar with Libraries Releases Today
If you already own Luminar 2018, you will automatically be upgraded to Luminar 3 with Libraries.
I've Booked Our Accommodations for the Joshua Tree Workshop this Coming March
The Adobe Rockpile is located conveniently on the way to Joshua Tree National Park,just minutes from the west entrance. Enjoy our Hammock,hot tub,views, and desert scenery!This Property is the perfect blend of comfort, convenience, nature, and high desert style.
The Adobe Rockpile is located in the most beautiful neighborhood in the hills of Yucca Valley. It feels like you are out in the national park, but are only one to two miles away from all the in-town amenities. Surrounded by open space, boulders and other custom homes with plenty of space in between, you will feel all the comforts of home and more in this neighborhood.
If you want to join us in March, If you want to join us in 2019, and I hope you do, please visit the Workshops Signup Page and place your $100 deposit. That will secure your ability to attend when official registration begins.
Updates and Such
Inner Circle Members: Night Shot is our current photo challenge. More details on our Patreon page.
B&H and Amazon tiles on www.thedigitalstory. If you click on them first, you're helping to support this podcast. And speaking of supporting this show, and big thanks to our Patreon Inner Circle members:
And finally, be sure to visit our friends at Red River Paper for all of your inkjet supply needs.
See you next week!
More Ways to Participate
Want to share photos and talk with other members in our virtual camera club? Check out our Flickr Public Group. And from those images, I choose the TDS Member Photo of the Day.
Podcast Sponsors
Red River Paper - Keep up with the world of inkjet printing, and win free paper, by liking Red River Paper on Facebook.
Portfoliobox - Your PortfolioBox site is the best way to show off your best images.
The Nimbleosity Report
Do you want to keep up with the best content from The Digital Story and The Nimble Photographer? Sign up for The Nimbleosity Report, and receive highlights twice-a-month in a single page newsletter. Be a part of our community!
Want to Comment on this Post?
You can share your thoughts at the TDS Facebook page, where I'll post this story for discussion.