This is The Digital Story Podcast #665, Dec. 11, 2018. Today's theme is "Inside Capture One Pro 12 with David Grover." I'm Derrick Story.
Opening Monologue
Phase One has just released Capture One Pro 12, its robust image management and editing software. Capture One has been gaining traction over the last few releases because many consider it a high quality alternative to Lightroom, myself included. Today, we have David Grover on the horn. He's Phase One's business support and development manager. And he's also one of their best trainers. I hope you enjoy his insights on this latest release of Capture One.
Inside Capture One Pro 12 with David Grover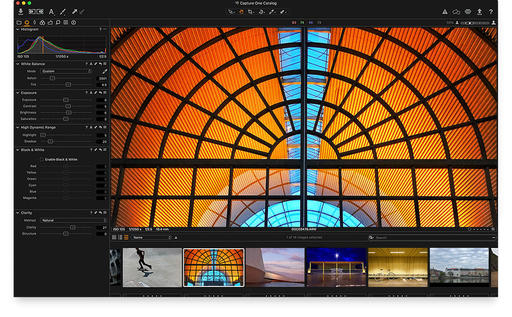 David and I sit down for a chat about the new features in Capture One Pro 12.
10 Qualities of a Successful Online Portfolio
Even if you very actively promote your work on social media, your online portfolio is still the mothership: the primary showcase of your talents, into which all other promotional streams will flow. But putting together a successful portfolio website can often seem like a daunting task. Where to begin?
Actually it's pretty simple, and the best portfolio sites all tend to share the same qualities. Follow our ten-point guide to creating an effective online portfolio and you'll soon be up and running.
See all 10 tips by visiting 10 Qualities of a Successful Online Portfolio on the Portfoliobox site.
To create your own Portfoliobox site, click on the tile or use this link to get started. If you upgrade to a Pro site, you'll save 20 percent off the $83 annual price.
I've Booked Our Accommodations for the Joshua Tree Workshop this Coming March
The Adobe Rockpile is located conveniently on the way to Joshua Tree National Park,just minutes from the west entrance. Enjoy our Hammock,hot tub,views, and desert scenery!This Property is the perfect blend of comfort, convenience, nature, and high desert style.
The Adobe Rockpile is located in the most beautiful neighborhood in the hills of Yucca Valley. It feels like you are out in the national park, but are only one to two miles away from all the in-town amenities. Surrounded by open space, boulders and other custom homes with plenty of space in between, you will feel all the comforts of home and more in this neighborhood.
If you want to join us in March, If you want to join us in 2019, and I hope you do, please visit the Workshops Signup Page and place your $100 deposit. That will secure your ability to attend when official registration begins.
Updates and Such
Inner Circle Members: Night Shot is our current photo challenge. More details on our Patreon page.
B&H and Amazon tiles on www.thedigitalstory. If you click on them first, you're helping to support this podcast. And speaking of supporting this show, and big thanks to our Patreon Inner Circle members:
And finally, be sure to visit our friends at Red River Paper for all of your inkjet supply needs.
See you next week!
More Ways to Participate
Want to share photos and talk with other members in our virtual camera club? Check out our Flickr Public Group. And from those images, I choose the TDS Member Photo of the Day.
Podcast Sponsors
Red River Paper - Keep up with the world of inkjet printing, and win free paper, by liking Red River Paper on Facebook.
Portfoliobox - Your PortfolioBox site is the best way to show off your best images.
The Nimbleosity Report
Do you want to keep up with the best content from The Digital Story and The Nimble Photographer? Sign up for The Nimbleosity Report, and receive highlights twice-a-month in a single page newsletter. Be a part of our community!
Want to Comment on this Post?
You can share your thoughts at the TDS Facebook page, where I'll post this story for discussion.