This is The Digital Story Podcast #678, March 12, 2019. Today's theme is "Accidental Time Capsules." I'm Derrick Story.
Opening Monologue
Most of us have been shooting digital cameras longer than we realize. And even if we've been good about archiving, we probably haven't browsed those decade-old drives in a while. And then, there are those memory cards that we have stashed in a desk drawer somewhere. They are flattened time capsules. And it's time to pull them out and see what they contain.
Accidental Time Capsules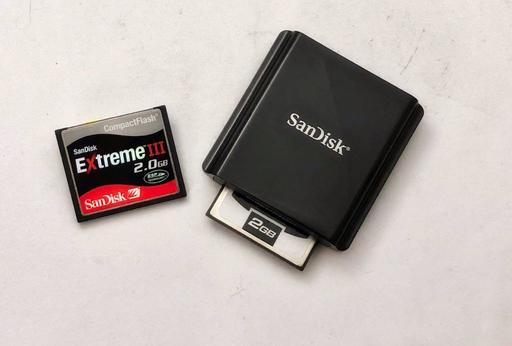 Here's a story that began with a search for a few CF cards to use with a Nikon D700 that I just bought, and what I discovered as a result.
U.S. Supreme Court Holds That Copyrights Must Be Registered before Plaintifs Can File Infringement Suits
This story is from the National Law Review. You can read it in its entirety there.
The U.S. Supreme Court held today that bringing a suit for copyright infringement requires that the infringed work actually be registered with the U.S. Copyright Office, and that a mere application for registration will not suffice.
The ruling makes it even more imperative that copyright holders register their works promptly if they wish to enforce their rights--on top of the already considerable financial incentives that the U.S. copyright regime provides for registered works.
Justice Ginsburg, writing for a unanimous Supreme Court, held that only after the application has been "registered" and issued by the Copyright Office--a process that can take months--may a plaintiff bring a lawsuit to enforce its copyrights.
Interesting Stories on the Red River Blog
Among everything else that it does, Red River Paper also publishes a terrific blog. Recent articles include road trip photography, wildlife refuges, and smartphone accessories. You might want to swing by for a read, then bookmark it once you do.
Do You Have a Film Camera that Needs a Good Home?
Over the last year, I've received donations from TDS members who have film cameras that need a good home. What I do is inspect the items, repair and clean as I can, then list them in TheFilmCameraShop where I can find a good home for them. If you're interested in donating, please use the Contact Form on TheNimblePhotographer site. And thanks for you consideration!
TDS Workshops Update
Joshua Tree Workshop Update
We will have the Olympus OM-D E-M1X to work with at the event. Participants will be able to experience this latest technology wonder in the beautiful high desert.
Sonoma Coast Workshop Update
I've secured a beautiful home for us just south of Bodega Bay. This will serve as our headquarters during the event. There's plenty of room for our classroom and presentation work, plus beautiful areas for relaxing, and even sleeping accommodations for those who wish to stay there.
We've started registrations for Sonoma Coast Exploration, and it looks like we have two seats open. So I've updated the inventory on the reserve list page. And you can place your deposit if you want to join us.
Updates and Such
Inner Circle Members: I have a new goodie for you this week. Go over to the Patreon site now to watch an introduction to how the new library manager works in Luminar 3. Now that version 3.0.2 is out, I think Luminar 3 is worth a look. If you're curious, take a look at this benefit for Inner Circle Members. And if you want to join the Inner Circle, visit our Patreon site, or click on the tile that's on every page of The Digital Story.
B&H and Amazon tiles on www.thedigitalstory. If you click on them first, you're helping to support this podcast. And speaking of supporting this show, and big thanks to our Patreon Inner Circle members:
And finally, be sure to visit our friends at Red River Paper for all of your inkjet supply needs.
See you next week!
More Ways to Participate
Want to share photos and talk with other members in our virtual camera club? Check out our Flickr Public Group. And from those images, I choose the TDS Member Photo of the Day.
Podcast Sponsors
Red River Paper - Keep up with the world of inkjet printing, and win free paper, by liking Red River Paper on Facebook.
Portfoliobox - Your PortfolioBox site is the best way to show off your best images.
The Nimbleosity Report
Do you want to keep up with the best content from The Digital Story and The Nimble Photographer? Sign up for The Nimbleosity Report, and receive highlights twice-a-month in a single page newsletter. Be a part of our community!
Want to Comment on this Post?
You can share your thoughts at the TDS Facebook page, where I'll post this story for discussion.