If you want to stretch beyond the limitations of the vignette tool in Capture One Pro 12, I recommend getting familiar with the new radial mask option. It's far more flexible and powerful, yet you can learn how to use it in just 3 minutes. Here's a video to show you how.
Radial gradient masks from Capture One Pro 12 Essential Training by Derrick Story
The way that I approached editing the portrait in this video was by creating two radial masks on two different layers. The first one was designed to lighten the tones on the subject's face. The second mask, on another layer, darkened the tones for the background. By having two masks on different layers, I had complete control over the relationship between the compositional elements. And because it's so easy to do, I could build this effect in just minutes.
You can use the masks for more than just tones as well. I can adjust colors, clarity, and other aspects of the photo. Again, this is so much more powerful than a basic vignette tool.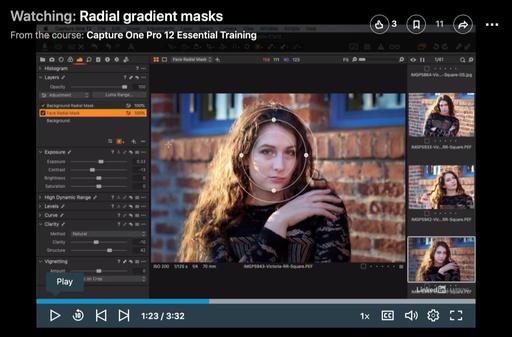 This is just one of the many techniques that I cover in this course. Other topics include (peppered with inside tips):
Tapping all the new features in Capture One Pro 12
Auto adjustments and basic image editing
Advanced editing techniques (and goodbye to Photoshop)
Organizing your catalog
Using star ratings and color labels to cull images
Building an electronic contact sheet
Creating a slideshow to review and present images
Strategies for protecting master images
For those of you new to this application, I have a Quick Start chapter that gets you up and running in less than 20 minutes. Yes, that's the entire workflow, start to finish, in less than half an hour.
You can learn all the ins and outs of this amazing software in the comfort of your home, or even on your smartphone by watching this fast-paced training: Capture One Pro 12 Essential Training on LinkedIn Learning. If you're a lynda.com fan, it's available there as well. You will learn everything from image organization, to expert editing, to output and more. It will feel good to finally take control of your photo library with Capture One Pro 12.
You can share your thoughts at the TDS Facebook page, where I'll post this story for discussion.