This is The Digital Story Podcast #679, March 19, 2019. Today's theme is "The Chill and the Thrill of Night Photography." I'm Derrick Story.
Opening Monologue
Having just spent nearly a week in the high desert, I can tell you that the nights are just as exciting as the days. As soon as the sky darkens and the stars come out, so do photographers with tripods and cameras in hand. After working with these late night shooters, I have some tips that might encourage you to bundle up and step into the starry night. All of that and more on today's TDS Photography podcast.
The Chill and the Thrill of Night Photography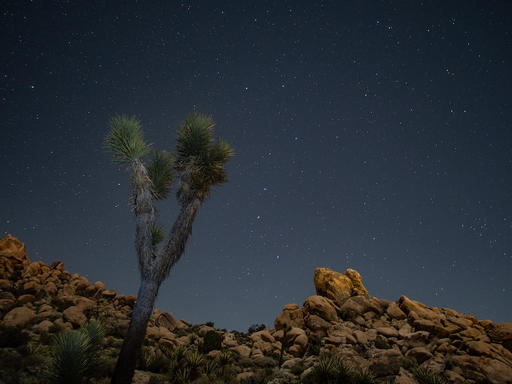 "Desert Sky" by Dennis Lewis (@lewisontheorad on Instagram) captured during the TDS Joshua Tree Photography Workshop - Olympus OM-D E-M1 II with Rokinon 12mm f/2 lens, 30 seconds, f/2, ISO 400, light painting on the Yucca Tree.
Some of my favorite images from the Joshua Tree Photography Workshop were captured well into the evening. We had a number of things going for us.
The Adobe Rockhouse, our HQ, was about 3500' in altitude above the city lights of Yucca Valley below. Plus we had wonderful rock piles and Joshua Trees to use for our foreground subjects, with the starry nights in the background.
Most us learned tips from the others for compelling night shots, and I'm sharing five of my favorites with you right now.
Get the Right Lens - You'll need a wide prime for effective star photography. A favorite among our group was the Rokinon 12mm f/2.0 NCS CS lens for Micro Four Thirds ($249-$399 depending if it's on sale). It's fast and wide (24mm on MFT) and has enough light gathering power for stars. Also check the Samyang 12mm f/2.0 NCS CS Lens for Micro Four Thirds
, which is essentially the same lens. You should be able to get one of them for under $300.

Test Your Infinity Setting - First you need a lens that allows you to manually focus and includes an infinity marker. But beyond that, you need to test where infinity actually is. On the Rokinon, for example, the sharpest infinity was just past the infinity marker. We fine tuned this through testing.

Get the Formula for Star Exposures - I recommend the article, Learn How to Shoot Stunning Milky Way Photos in Five Minutes. That's what many of us used as a starting point. The basic exposure was 20-30 seconds wide open with the 12mm. ISO was between 400 and 1600 depending on the conditions.

Use Your Flashlight for Light Painting - A few brush strokes with the flashlight on foreground subjects can add pop to them and help you create an overall compelling composition. Don't overdo it - just a second or two will suffice.

Consider a Clear-Night Filter to Offset Sodium Vapor Lights - If you don't care to the overly yellow-orange tint that comes from sodium vapor lights in the surrounding city, consider a Haida 67mm NanoPro MC Clear-Night Filter ($67) or equivalent to help you better control the color. These aren't helpful if you have LED streetlights in the surrounding area.
A Recap of the Joshua Tree Photography Workshop
Here's an overview of the highlights from our trip.
Nikon Now Includes the $250 FTZ Lens Adapter for Free with the Z6 and Z7
Via PetaPixel.
If you shoot with a Nikon full-frame DSLR and have been considering a jump to the new Z Series of full-frame mirrorless cameras, it's now easier on your wallet to bring your existing lens collection over with you. Nikon is now bundling the $250 FTZ (F-mount to Z-mount) lens adapter for free with the Nikon Z6 and the Nikon Z7.
The FTZ adapter allows over 360 F-mount NIKKOR lenses to be used on Z Series mirrorless cameras with no change in image quality, and it guarantees full compatibility with over 90 NIKKOR lenses. F-mount lenses mounted via the adapter can make use of Z camera features such as Hybrid-AF and 3-axis in-camera Vibration Reduction (VR).
TDS Workshops Update
Sonoma Coast Workshop Update
I've secured a beautiful home for us just south of Bodega Bay. This will serve as our headquarters during the event. There's plenty of room for our classroom and presentation work, plus beautiful areas for relaxing, and even sleeping accommodations for those who wish to stay there.
We've started registrations for Sonoma Coast Exploration, and it looks like we have two seats open. So I've updated the inventory on the reserve list page. And you can place your deposit if you want to join us. If you do, you'll have an incredible photography experience.
Updates and Such
Inner Circle Members: A big thanks to those who support our podcast and our efforts!
B&H and Amazon tiles on www.thedigitalstory. If you click on them first, you're helping to support this podcast. And speaking of supporting this show, and big thanks to our Patreon Inner Circle members:
And finally, be sure to visit our friends at Red River Paper for all of your inkjet supply needs.
See you next week!
More Ways to Participate
Want to share photos and talk with other members in our virtual camera club? Check out our Flickr Public Group. And from those images, I choose the TDS Member Photo of the Day.
Podcast Sponsors
Red River Paper - Keep up with the world of inkjet printing, and win free paper, by liking Red River Paper on Facebook.
Portfoliobox - Your PortfolioBox site is the best way to show off your best images.
The Nimbleosity Report
Do you want to keep up with the best content from The Digital Story and The Nimble Photographer? Sign up for The Nimbleosity Report, and receive highlights twice-a-month in a single page newsletter. Be a part of our community!
Want to Comment on this Post?
You can share your thoughts at the TDS Facebook page, where I'll post this story for discussion.