This is The Digital Story Podcast #688, May 21, 2019. Today's theme is "5 Things that We Can Learn from Warhol's Photography." I'm Derrick Story.
Opening Monologue
Last week I spent an afternoon with Andy Warhol at SF MOMA. As I looked at his paintings and photographs, I was intrigued at how his work could help my own photography. After studying my images from the day, and thinking about his, I came up with these 5 tips to infuse more creativity into our work. I hope you enjoy the show.
5 Things that We Can Learn from Warhol's Photography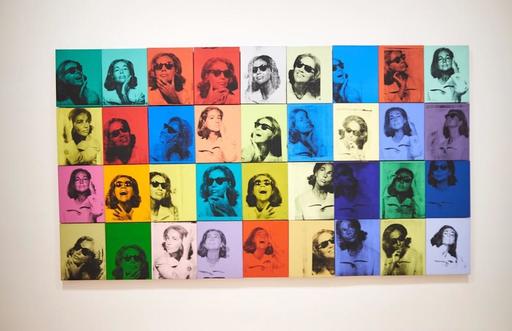 "Ethel Scull 36 Times" by Andy Warhol. SF MOMA.
My five tips for increasing creativity based on Andy Warhol's images.
Art is What You Can Get Away With - This Warhol saying applies wonderfully to photography. Don't limit your work. And especially now in the digital age when experimentation is so easy.

The Photograph Doesn't Need to Be the End Product - Some of my favorite Warhol paintings started out as Polaroid prints, but ended up as beautiful mixed-media images.

Repetition Can Be Interesting - At first a wall of Campbell's soup cans seems to be a single image repeated many times. But the slight variation pulls the viewer in for a closer look. In his work, "Ethel Scull 36 Times," Warhol created a vibrant, energetic series based on multiple poses of the same subject.

Be Bold with Color - The images themselves are interesting for sure. But when bold color is added to the frames, they become vibrant works of art.

Take an Instagram Approach to Your Portraits - Looking at a wall of tightly cropped, square portraits reminded me of some of my most popular Instagram images that had great presence and were easy to digest visually.
If you want to see the show for yourself, it's playing at SF MOMA. I'd be curious as to what your takeaways would be.
All about image quality, size and resolution
You can read the entire article here.
All images that are larger than 1920 pixels, in width or height, before upload will be resized to 1920 pixels during upload. To avoid quality loss, we recommend that you upload images that are 1920 pixels or smaller. Note that images that are smaller than 1920 pixels, will not be resized.
Dpi (dots per inch) only matters when it comes to printing or scanning. Monitors don't have dots but pixels, so dpi value has no effect on the quality of an image viewed on a screen or uploaded online.
Before uploading your images to your Portfoliobox site, make sure their color profile is sRGB. If you are using Photoshop go to File > Save for Web. This will make sure that the images will be optimized for web browsers.
Present your best self online with a Portfoliobox site. To create your own Portfoliobox site, click on the tile or use this link to get started. If you upgrade to a Pro site, you'll save 20 percent off the $83 annual price.
2019 Buying Guide: Best instant cameras
You can read the entire article here.
What is it we love so much about instant cameras? Is it the nostalgia-factor? Or the sensation of being able to hold/share a physical print? Maybe it's the excitement that comes from watching an image slowly appear before your eyes. Surely for some, the lo-fi image quality is refreshing in an increasingly high-resolution, digital world.
Favorite: The Fujifilm Instax Mini 70 strikes the perfect balance of price to features to make it our top overall pick - plus it makes use of the most affordable instant format. Available in six colors, the Mini 70 is among the most compact and lightweight instant cameras on the market, and also among the prettiest (in our opinion). The CR2 batteries it uses can be a little annoying to find, but battery life overall is great. And unlike rechargeable instants, the Mini 70 should still have some juice in it even if left on a shelf for several months.
But most importantly, it's really easy to use. Users simply select their shooting mode - normal, macro, selfie, landscape, self timer or high key - and the camera does the rest. And unlike some of its competitors, focus is motor-driven (three positions) and set by the camera when your mode is selected. Exposure is fully automatic, though there is a +2/3rd EV option (that's the high key mode). Overall, the Mini 70 does a good job balancing flash with ambient light thanks to a variable shutter.
TDS Workshops Update
Humboldt Redwoods Workshop Update
Our grand finale of the season will be on Sept. 18-20 in one of the most beautiful areas on the planet. Our headquarters will be in Fortuna, CA - an easy drive from the Eureka Airport only 25 minutes away.
We're located on the Eel River, and situated perfectly to explore the Redwoods just south of us. This will be an excellent event to cool off, slow down, and get some great images. Plus, you'll be able to spend some quality time with your fellow virtual camera club members.
We still have a couple openings on the reserve list. You can secure your seat by visiting www.thenimblephotographer.com, and place a fully refundable deposit for the event.
Updates and Such
Inner Circle Members: A big thanks to those who support our podcast and our efforts!
B&H and Amazon tiles on www.thedigitalstory. If you click on them first, you're helping to support this podcast. And speaking of supporting this show, and big thanks to our Patreon Inner Circle members:
And finally, be sure to visit our friends at Red River Paper for all of your inkjet supply needs.
See you next week!
More Ways to Participate
Want to share photos and talk with other members in our virtual camera club? Check out our Flickr Public Group. And from those images, I choose the TDS Member Photo of the Day.
Podcast Sponsors
Red River Paper - Keep up with the world of inkjet printing, and win free paper, by liking Red River Paper on Facebook.
Portfoliobox - Your PortfolioBox site is the best way to show off your best images.
The Nimbleosity Report
Do you want to keep up with the best content from The Digital Story and The Nimble Photographer? Sign up for The Nimbleosity Report, and receive highlights twice-a-month in a single page newsletter. Be a part of our community!
Want to Comment on this Post?
You can share your thoughts at the TDS Facebook page, where I'll post this story for discussion.