This is The Digital Story Podcast #719, Dec. 31, 2019. Today's theme is "Managing the Art/Life Balance." I'm Derrick Story.
Opening Monologue
My hope is that the lessons that I've learned over the past decade will provide a strong start to the next. One area of particular importance is deciding how to use the resources that are available to me. Whether it's my business, my craft, or my personal life, learning how to skillfully reinvest in those areas is a top priority for 2020. Today, we'll take a closer look at the unique challenges that artists face with this balancing act.
Managing the Art/Life Balance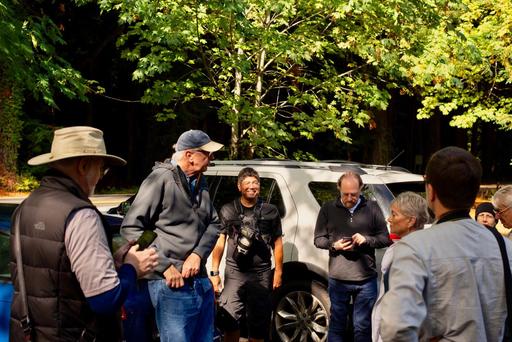 Before we get to the Art Part of the equation, let's talk about life in general, and the options available to us. Is the goal to make as much money as possible? How do they balance the acquisition of possessions vs experiences? And how much risk can they live with along the way?
I've always found that it's easiest to take a big challenge and break it into parts to make it feel more manageable. The biggest challenge of all, day-to-day happiness, falls into these five categories for me.
Time - Managing sleep vs waking hours, labor vs creativity, work vs personal life.
Energy - Health is a key factor and plays an important role in the amount of time that's available to us. Good health equals more energy.
Money - Short term capital that's liquid and available to spend.
Assets - Longer term capital that provides relative security as we navigate the ups and downs of daily life.
Well Being - The result of finding the right balance of the above factors.
Why Artists are Unique
Now let's get to the Art Part.
Artists have an additional layer to contend with. If you're not an artist, you may be satisfied with a good job, happy relationship, and reasonable health. An artist, on top of those things, needs to create. This activity often requires both tools and time. Adding this layer to an already challenging life is an art in itself.
Here are five things to keep in mind along the way.
Do make time for your craft. Life will pull you in different directions. And others might not value your creative pursuits as much as you do. As long as you keep things in balance, learn to ignore statements such as, "Derrick loves to play with his cameras." and things like that.

Don't over-emphasize tools. Cameras and lenses are necessary in the right amount. But experiences using those tools are just as valuable, if not more so.

Don't be weird. Overly inward, non-communicative, odd behavior is off-putting to others. And you never really know where your next opportunity lies. Take interest in other peoples' lives, even if it's not your cup of tea.

You don't need to be rich, but you do need to pay your bills. Beware of over-extending your assets in the name of art. Make sure you focus on generating enough money to meet your budget, even if it requires some mundane activities.

Nourish your friends and family. As much as we would love to immerse in our passions in our free time, sometimes you need to help the kids with their homework, accompany your partner to the grocery store, and call your mom.
As you've probably figured out by now, reinvesting in your craft is really managing your resources in life overall. By maintaining our health, paying attention to those around us, and by responsibly allocating assets to our artistic endeavors extends our ability to enjoy the rewards of creativity.
May your New Year be fueled by the lessons you've learned from the past. Happy 2020 my friends!
We Now Have a Secure Server for TDS
Even though we don't handle transactions on thedigitalstory, we moved the site to a secure server that now uses https instead of http. In large part, we undertook this project because of the mail I received from concerned visitors who saw "Not Secure" in the URL bar of certain browsers.
All along, I've assured folks that nothing bad was going to happen as a result. But, things got to the point where it was better to make the change.
You can thank our Inner Circle Members for this upgrade. Their contributions paid for the project.
The TDS 2020 Photography Workshop Season
What makes these events so special? It's the magic blend of fellowship, location, inspiration, and focus. You can actually be single-minded about your craft. I'll take care of everything else.
When I was discussing this on our Patreon site, one Inner Circle member raised a concern about the class presentation on the final day. I'm going to tell you what I say at every workshop. This is not a competition. It is the most supportive creative environment that you will ever share your work with. And no matter your skill level, the floor is yours to discuss your experience and share a few images. I promise you, you will love it.
When you decide which event is best for your, jump over to our 2020 Workshops Signup Page and place a $100 deposit to secure your place. Only participants on the Reserve List who have placed a deposit will be eligible to register for a workshop. If you have questions or need more information, fill out the "Send Me Info!" request form. I'll get back to you asap.
Updates and Such
Inner Circle Members: A big thanks to those who support our podcast and our efforts!
How to Watch Photos for macOS Catalina and iPadOS - Learn everything you need to know about Photos for the Mac and iPad by checking out my latest course on LinkedIn Learning and on lynda.com. This course is perfect for Mac and iPad based photographers who shoot with iPhone, Mirrorless, and DSLR cameras. It covers both photography and movies. And if I say so myself, it's a lot of fun.
B&H and Amazon tiles on www.thedigitalstory. If you click on them first, you're helping to support this podcast. (The Digital Story is supported by its audience. When you purchase through links on our site, we may earn an affiliate commission.) And speaking of supporting this show, and big thanks to our Patreon Inner Circle members:
Affiliate Links - The links to some products in this podcast contain an affiliate code that credits The Digital Story for any purchases made from B&H Photo and Amazon via that click-through. Depending on the purchase, we may receive some financial compensation.
And finally, be sure to visit our friends at Red River Paper for all of your inkjet supply needs.
See you next week!
More Ways to Participate
Want to share photos and talk with other members in our virtual camera club? Check out our Flickr Public Group. And from those images, I choose the TDS Member Photo of the Day.
Podcast Sponsors
Red River Paper - Keep up with the world of inkjet printing, and win free paper, by liking Red River Paper on Facebook.
Skillshare is an online learning community with thousands of classes for creators, entrepreneurs, and curious people everywhere. Get two months of learning for free by visiting www.skillshare.com/tds.
The Nimbleosity Report
Do you want to keep up with the best content from The Digital Story and The Nimble Photographer? Sign up for The Nimbleosity Report, and receive highlights twice-a-month in a single page newsletter. Be a part of our community!
Want to Comment on this Post?
You can share your thoughts at the TDS Facebook page, where I'll post this story for discussion.