This is The Digital Story Podcast #755, Sept. 8, 2020. Today's theme is "5 Years with a Photo Diary." I'm Derrick Story.
Opening Monologue
Back in 2015, when I began my photo diary, the world was a much different place. I didn't know it at the time, but over the next few years, I would experience monumental changes in both my personal and professional lives. Many of those changes have been captured in pictures and words. Today, I'll share a few of those entries, and discuss the value of creating your own photo diary.
5 Years with a Photo Diary
One of the interesting things about a dairy of any type is that you can measure how quickly life changes. Not just your perceptions, but with actual dates and events. Here are a few examples.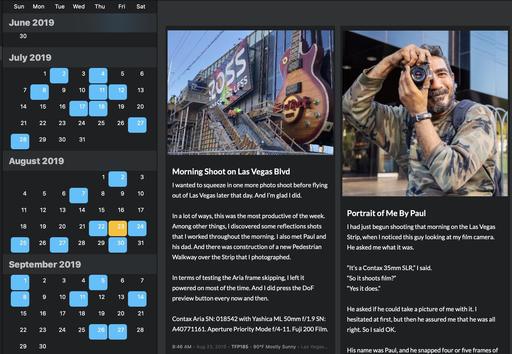 Aug. 16, 2016 - Giants Baseball - I packed the Contax 139Q for some street shooting in SF on our walk to AT&T Park for a Giants game. Four of us were going to the game: Zach, Max, Jason, and myself. We took the Larkspur Ferry over to the Embarcadero, strolled for 1 mile to the ballpark, then returned to Larkspur on the Giants Ferry after the game.

Dec. 27, 2016 - Apple Photos Book at Barnes & Noble - I was killing some time downtown waiting for the battery to be replaced in my iPhone 6S. So I ducked into our local Barnes and Noble bookstore to see if my The Apple Photos Book for Photographers was in stock. Much to my delight, there was one copy left. So I did what any photographer would do: I faced it forward and took a picture.

Jan. 31, 2017 - Ron and Lynn Story - Dad was recovering from his broken hip (and many other things) at Claremont Manor. On the last day of my January visit, I posed them together for this classic portrait. They are both in their 80s. [Note, this is the last photo of my dad that I took.]

March 10, 2017 - A celebration of Ron's Life: When my dad passed away near midnight on Monday, March 6, 2017, my family gathered at my sister's house in Huntington Beach California, and at my mother's home in Upland California. The first few days were just taking care of the many, many details that need to be addressed after such an event. Then on Friday, March 10, we had a gathering of family at Dalene's to celebrate Ron's life. This roll of film is from that event.

Oct. 19, 2017 - Steve and His 2 Hearts: I was able to take my first bike ride today since the firestorm. The breeze was coming from the west in the air-quality was quite good.
I packed my camera and rode around the neighborhood. Photographing little things that will help me remember how horrible last week was.
At one point, I met Steve. He had crafted these two hearts and wanted to post them somewhere to make people feel a little better.
"I wanted to create a message without words," he told me. I talked with him for a bit more, felt a little better about things, then rode off to complete my errands. Steve had accomplished his goal.

Over the 5 years, I have 920 photo entries. And the more I look at the diary, the more I wish I had added more moments.So I'm going to rededicate myself to this project. After all, now the rebuilding begins, and I don't want to miss any of that!
Using Day One as a Photo Diary
In this spot, I talk about why I use Day One to record the entries for my photo Diary.
Panasonic unveils new 24, 35, 50 and 85mm F1.8 L-mount primes
You can read the entire article on DP Review.
The S5 is at the center of the Panasonic's announcements today, but the company has also revealed plans to release a handful of F1.8 prime lenses. Details are thin at the moment, but we know that S-series 24mm, 35mm, 50mm and 85mm F1.8 lenses are on the way, and that the 85mm will be available in November.
A YouTube presentation by Panasonic shows all four primes as being the same size, each of them smaller (and presumably less expensive) than the existing F1.4 L-mount options at these focal lengths, which will bring some added variety to the growing lens system.
New Release: "How to Get Started with Vinyl Records"
Take a hands-on journey with Derrick Story as he shows you how to set up a HiFi stereo system, add vinyl records to your music library, care for them, and finally, how to digitize the albums for personal listening.
Everything that you need to know to get started with records, or to rekindle your love for vinyl LPs. Plus, you'll get 30-percent discount codes for digitizing software from Rogue Amoeba. The money you will save is more than you'll spend for the price of this online course. What a great value!
In this online course, Derrick will show you:
All of the gear that you need to set up a HiFi system.
How to wire up and configure your kit.
Where to find records and what to look for.
How to take care of your vinyl so that it lasts a lifetime.
How to digitize your albums and add them to your digital music catalog.
Tips and tricks to enhance your enjoyment.
Updates and Such
Inner Circle Members: A big thanks to those who support our podcast and our efforts!
How to Watch Photos for macOS Catalina and iPadOS - Learn everything you need to know about Photos for the Mac and iPad by checking out my latest course on LinkedIn Learning and on lynda.com. This course is perfect for Mac and iPad based photographers who shoot with iPhone, Mirrorless, and DSLR cameras. It covers both photography and movies. And if I say so myself, it's a lot of fun.
B&H and Amazon tiles on www.thedigitalstory. If you click on them first, you're helping to support this podcast. (The Digital Story is supported by its audience. When you purchase through links on our site, we may earn an affiliate commission.) And speaking of supporting this show, and big thanks to our Patreon Inner Circle members:
Affiliate Links - The links to some products in this podcast contain an affiliate code that credits The Digital Story for any purchases made from B&H Photo and Amazon via that click-through. Depending on the purchase, we may receive some financial compensation.
And finally, be sure to visit our friends at Red River Paper for all of your inkjet supply needs.
See you next week!
Product Links and Comments
There are product links in this article that contain affiliate tags. In some cases, depending on the product, The Digital Story may receive compensation if you purchase a product via one of those links. There is no additional cost to you.
You can share your thoughts at the TDS Facebook page, where I'll post this story for discussion.