This is The Digital Story Podcast #785, April 6, 2021. Today's theme is "If I Were to Buy a Photo Printer." I'm Derrick Story.
Opening Monologue
Quite possibly a barrier to making more visual art is your printer. Do you have an aging behemoth that gives you unpredictable results at best? Has your All-in-One become an All-In-None? Would you like something that's just a bit smarter, smaller, and better looking? Well, then keep listening. Today's TDS Podcast will get you up and running again.
Tune-In Via Your Favorite Podcast App!

---

Apple Podcasts -- Spotify Podcasts -- Stitcher

Podbean Podcasts -- Podbay FM -- Tune In
If I Were to Buy a Photo Printer
Printers have come a long way in the last few years. You can buy units that take up less space and are more fun to use. Here are five of my favorites.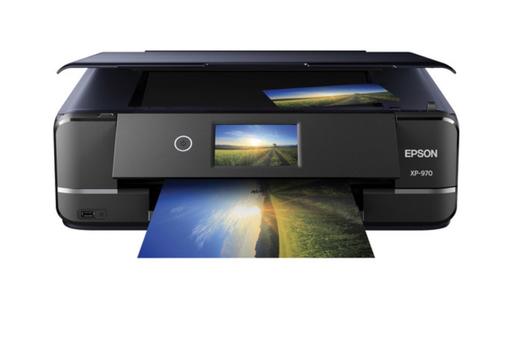 Pigment vs Dye-Based Printers
Very broadly, pigment inks last longer without fading, but dye inks tend to give richer, denser colors and sink deeper into the paper surface. They're both 'inks', but they have different pros and cons and printer makers will choose one or the other (or combine them) according to what the printer's designed for. The best photo printer doesn't necessarily use one or the other - it's up to you how you want to balance immediate print quality against long-term stability.
5 Favorite Inkjet Printers
If you are doing B&W printing on gallery quality fine art fiber basedmatte papers this may not be your printer. While it certainly does a good job, a pigment based printer with a flat black ink cartridge will give better results.

And it includes a flatbed scanner!

And it includes a flatbed scanner!
A New Infrared Photography Online Workshop Begins May 2021
Back by popular demand!
If you want to learn the ins and outs of IR photography from the comfort of your home during this online event, then check out The Second Infrared Photography Workshop that begins in mid-May.
The workshop is already half sold-out via the pre-announcement to our Inner Circle Members (who also receive a discount for the event.) But we still have seats open. I wouldn't delay however if you want to attend.
You will learn how to:
Choose best IR filter to start with.
How to test your existing digital camera for infrared sensitivity.
Learn about the different types of IR conversions for digital cameras.
See how different IR filters produce wildly different results.
Learn how to fine-tune your images with software you already own.
Discover advanced techniques to take your images to the next level.
You can sign up now for $145. Inner Circle Members, visit out Patreon site for a discount coupon code.
LG Leaves a Trail of Photo Innovations Behind As It Exits Mobile
You can read the entire article on Petapixel.
It may not have come as a surprise for those with ears to the ground in the mobile phone industry, but LG is officially walking away. Despite that, it does leave something of an imaging legacy behind.
As of July 31, 2021, it will be the end of an era for the company, as the drawdown will be completed by that date. It will continue to sell the remaining inventory -- even after that date -- but nothing new will come from here on out.
LG's struggle to carve out a steady piece of the market and grow it proved daunting. With Chinese brands emerging as serious contenders to all established players, the market squeeze forced a rethink of what to do to stand out. That's where phones like the Dual Screen G8X and V60 ThinQ, and -- especially -- the Wing, came out looking totally unique.
To my mind, one of the reasons LG lost its way is because it stumbled on the photography side. There were certainly other, sometimes related, reasons, but the imaging part of the equation was a major factor.
The V40 pioneered the triple-camera array, albeit too late to stand out among the pack. The problem was that the software wasn't good enough to help produce better photos. Google had software computation, Samsung had decent output, Huawei had outstanding performance, and OnePlus had improving quality. Tighter competition and less of a differentiating hook continued to push LG to the side.
In an era where camera performance and image quality figured so prominently as a selling point for high-end and mid-range handsets, LG struggled to make its own case. It stopped being the first to do things and followed trends instead. Its attempt at artificial intelligence input for its camera array never amounted to much in the way of innovative prowess.
The New Donation Kit for Carefree Shipping of Found Film Cameras
We have more time around the house than ever. And you finally dove into that bedroom closet that's been begging for some organization.
If you found a film camera that you're no longer using, our new Donation Kit makes it easy to pack and ship. Just visit the Contact Form on thenimblephotographer.com, click the box next to Donating a Film Camera, and let me know what you have. In your note, be sure to include your shipping address.
If it's a camera we can use for the shop, I'll send you a Donation Kit that includes a USPS Priority Mail shipping box and prepaid label. All you have to do is tape it up, insert the camera, and add the label. USPS will pick up your shipment from the front door of your house during their regular mail delivery. It's that simple!
Your donation help get analog gear in the hands of aspiring fine art photographers, and the proceeds help support this podcast.
Virtual Camera Club News
Inner Circle Members: A big thanks to those who support our podcast and our efforts!
Second Session of Integrating iPhone into a Pro Photography Workflow Online Workshop - April 21 to May 15, 2021: The first session of "Integrating iPhone into a Pro Photography Workflow" Online Workshop has sold out. But now I've posted a second session that begins April 21, 2021. If you're interested in attending, just go to catalog page.
My Writing on Medium.com: I now have more than 25 published articles on Medium.com. And if you haven't visited the site, and enjoy good writing on a variety of topics, I suggest that you may want to take a look. You can just go to the home page and enter "Derrick Story" in the search field. And if you like what you read, then follow me!
EV Explorers for Those Who Are Interested in Electric Cars: I've created a new group on DerrickStoryOnline titled EV Explorers. The tagline for this group is: "Bringing Curiosity and Nimbleosity to the World of Electric Vehicle Transportation." Here we can share information, tips, discoveries and more about using electric vehicles for our photography adventures. If you want to join this group, click on this link for an invite. We're going to keep this as a private group for now, but you are invited to join us.
Affiliate Links - The links to some products in this podcast contain an affiliate code that credits The Digital Story for any purchases made from B&H Photo and Amazon via that click-through. Depending on the purchase, we may receive some financial compensation.
And finally, be sure to visit our friends at Red River Paper for all of your inkjet supply needs.
See you next week!
Product Links and Comments
There are product links in this article that contain affiliate tags. In some cases, depending on the product, The Digital Story may receive compensation if you purchase a product via one of those links. There is no additional cost to you.
You can share your thoughts at the TDS Facebook page, where I'll post this story for discussion.