This is The Digital Story Podcast #805, Aug. 24, 2021. Today's theme is "3 Intriguing Photography Stories." I'm Derrick Story.
Opening Monologue
Instead of committing to an entree, do you ever opt for a few appetizers instead? Well, today's TDS Photography Podcast is exactly that: a trio of tasty treats that should add up to a satisfying show. So tap your favorite beverage and let's go!
Digital Photography Podcast 805
Tune-In Via Your Favorite Podcast App!

---

Apple Podcasts -- Spotify Podcasts -- Stitcher

Podbean Podcasts -- Podbay FM -- Tune In
3 Intriguing Photography Stories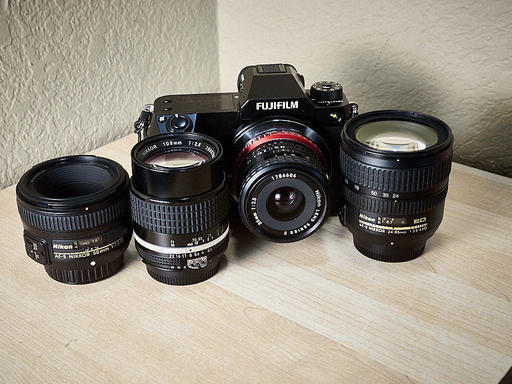 Story #1 - Yes, You Can Use 35mm Lenses on a Medium Format Camera
I've really enjoyed testing the Fujifilm GFX 100S medium format camera. But I only have one lens for it: the Fuji 80mm f/1.7. It's a terrific optic, but I needed something a bit wider.
So I started researching the use of 35mm full frame optics on medium format. And lo and behold, it can be done. I explain how in this first story.
Story #2 - What I Did While Recharging the Car in the Middle of Nowhere
You may remember that I said I was taking the all-electric VW ID.4 on its first field test. Well, that I did, and you can see all the pictures and read the story on the TDS site. But right now, I want to tell you one anecdote from the trip.
Via the mobile app PlugShare, I had learned that there was a free charging station at one of my favorite state parks, Ft. Ross. It happened to be conveniently on the way to my final camping destination up the road.
So I made the stop, plugged in the car, and here's how I spent my time during that top off.
Story #3 - Getting a Grip on the Nikon Z fc
So one of the things that I did on the photography field trip is spend a full day with the Nikon Z fc retro-styled mirrorless camera. I had mentioned previously, before I had the camera in my hands, that I was disappointed in some of its specs.
After a couple day hikes with it, I began to soften my stance. The images looked great, the DX 16-50mm lens was sharp and optically stabilized, and overall, the camera was a pleasure to use - except for one thing: hanging on to it.
There was no grip on the front or back of the camera, and I found it somewhat awkward to hold. What a shame for an otherwise nicely crafted machine.
Once I got home, I did a little research. I couldn't be the only one who felt like this camera could use an accessory grip. And sure enough, I was right.
Nikon has actually designed an accessory GR-1 extension grip for the camera. The bad news is, that it appears to be available only in the UK at this time.
Take heart Z fc hopefuls! It should only be a short wait for the grip to arrive on your home turf. It will cost you an additional $120, but with it, the camera should be a true joy to use.
Our First Writing Workshop!
Writing for Artists Who Want to Publish (or just get better)
This online workshop is designed to help photographers, and all types of creatives, improve their writing skills for online sites including publications such as Medium.com. Useful for the business environment as well because improved clarity in writing often translates into successful business interactions.
Over the course of four sessions, you'll learn how to translate your thoughts into effective articles and posts that will engage readers. We will cover online style, article construction, self-editing tips, and promotion.
You will also have access to our online workshop community, DerrickStoryOnline, where you can ask questions, share techniques, and show off your work. Your membership to our online community extends pass the workshop itself, so you can continue to share notes with those who share your particular interests.
Our weekly meetings during the workshop itself are via Zoom, with AM and PM sessions available so you can match this event to your busy schedule. Plus, we record each session and make them available to participants for future reference.
You can sign up today and reserve your spot.
Virtual Camera Club News
Inner Circle Members: A big thanks to those who support our podcast and our efforts! (And welcome to our new members.)
My Writing on Medium.com: I now have 40 published articles on Medium.com. And if you haven't visited the site, and enjoy good writing on a variety of topics, I suggest that you may want to take a look. You can just go to the home page and enter "Derrick Story" in the search field. And if you like what you read, then follow me!
The New Donation Kit for Carefree Shipping of Found Film Cameras - If you've discovered a film camera that's no longer being used, our new Donation Kit makes it easy to pack and ship. Just visit the Contact Form on thenimblephotographer.com, click the box next to Donating a Film Camera, and let me know what you have. In your note, be sure to include your shipping address.
Affiliate Links - The links to some products in this podcast contain an affiliate code that credits The Digital Story for any purchases made from B&H Photo and Amazon via that click-through. Depending on the purchase, we may receive some financial compensation.
Red River Paper - And finally, be sure to visit our friends at Red River Paper for all of your inkjet supply needs.
See you next week!
Product Links and Comments
There are product links in this article that contain affiliate tags. In some cases, depending on the product, The Digital Story may receive compensation if you purchase a product via one of those links. There is no additional cost to you.
You can share your thoughts at the TDS Facebook page, where I'll post this story for discussion.