This is The Digital Story Podcast #808, Sept. 14, 2021. Today's theme is "My Top 5 Recent Gear Announcements." I'm Derrick Story.
Opening Monologue
My word! The camera industry has been very busy of late. And we get to enjoy the fruits of their labor. With new announcements from OM Digital, Ricoh, Fujifilm, Venus Optics and others, there's enough window shopping to dazzle our eyes like a tot set loose in a toy store. What are the picks of the litter? I'll share my 5 favorites on today's TDS Photography Podcast. I hope you enjoy the show.
Digital Photography Podcast 808
Tune-In Via Your Favorite Podcast App!

---

Apple Podcasts -- Spotify Podcasts -- Stitcher

Podbean Podcasts -- Podbay FM -- Tune In
My Top 5 Recent Gear Announcements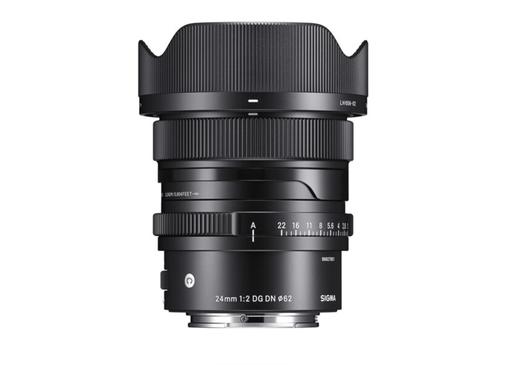 #1 - Sigma 24mm f/2 DG DN Contemporary Lens for Sony E
I-series lens emphasizing a sleek and stylish physical design built to the same operational standards of Sigma's Cine lenses, including a mechanical aperture ring, knurled metal components, and various switches and tactile controls for intuitive operation. Wide-angle 24mm lens designed for full-frame Sony E-mount mirrorless cameras, however, can also be used with APS-C models where it provides a 36mm equivalent focal length. Minimum focusing distance of 9.65" for unique close-up shooting capabilities. Rounded nine-blade diaphragm contributes to a smooth and pleasing bokeh quality. All-metal body with high-precision metal parts and a metal hood. $639 and coming soon.
#2 - Ricoh GR IIIx Compact Camera
A newly developed 26.1mm F2.8 GR lens, which harmonizes exceptional image quality with a slim design. Unlike past GR-series models which featured a 28mm wide angle of view for exaggerated perspective, this lens provides a 40mm standard angle of view in the 35mm format, delivering images with a more natural perspective and a more truthful sense of depth for a completely different type of street photography. Also features an APS-C 24 MP sensor with 14-bit RAW, 3-Axis IS with Auto Horizon Correction function to effortlessly optimize image composition, and a cool accessory GT-2 Tele Conversion Lens to extend the focal length to approx. 75mm telephoto in the 35mm format, usable in combination with the camera's auto detection and crop functions. No U.S. availability set yet, but it is listed in the U.K. and E.U.
#3 - M.Zuiko Digital ED 20mm F1.4 PRO
"OM Digital Solutions Corporation is pleased to announce the development of two new lenses that conform to the Micro Four Thirds System standard: the M.Zuiko Digital ED 20mm F1.4 PRO compact large-diameter single-focal- length lens, and the M.Zuiko Digital ED 40-150mm F4.0 PRO compact telephoto zoom lens. Both lenses will join the M.Zuiko PRO series, featuring compact and lightweight lenses that offer excellent resolution and make the most of the unrivaled portability and image quality that is the hallmark of the Micro Four Thirds System. In conjunction with this development announcement, the M.Zuiko Digital lens roadmap has been updated. OM Digital Solutions will continue to leverage the strengths of the Micro Four Thirds System to enhance its lineup of lenses and broaden opportunities for photographic expression."
#4 - FUJIFILM X-T30 II Mirrorless Digital Camera with 15-45mm Lens
Sharing a sensor with the professional-oriented X-T3, the X-T30 II features an APS-C-format 26.1MP X-Trans CMOS 4 sensor, which has a back-illuminated design to afford smooth tonal rendering, improved low-light performance, and a low native ISO 160 setting. Plus, the camera features X-Processor 4 quad-core CPU inside X-T30 II offers fast, accurate autofocusing, 2.36m-dot OLED electronic viewfinder, rear 3.0" 1.04m-dot LCD touchscreen, Front and rear command dials, 18 Film Simulation and Grain Effect Modes, and XF 15-45mm f/2.8-4 R LM OIS lens features a 23-69mm equivalent.
Lens and camera kit should be available in late October for $999.
#5 - Venus Optics unveils $899 Laowa Argus 35mm F0.95
The manual focus lens is constructed of 14 elements in nine groups, including one aspherical element, one extra-low dispersion element and four ultra-high-refractive elements. It features a fifteen blade aperture diaphragm, an aperture range of F0.95 through F16, has a minimum focusing distance of 50cm (19.7") and uses a 72mm front filter thread. Plus there's a "de-click" switch for the aperture ring.
Laowa Argus 35mm F0.95 FF is available for Canon RF, Nikon Z and Sony E mount camera systems and can be purchased via Venus Optics' official website and authorized resellers for $899. The first 100 units ship with a free focus gear belt.
And Still More to Come!
Both Canon and Apple are holding special announcement events today, so we will have more gear to discuss next week as well. Wow.
Apple Issues Emergency Security Updates to Close a Spyware Flaw
You can read the entire article on NY Times.
Apple issued emergency software updates for a critical vulnerability in its products on Monday after security researchers uncovered a flaw that allows highly invasive spyware from Israel's NSO Group to infect anyone's iPhone, Apple Watch or Mac computer without so much as a click.
Apple's security team has been working around the clock to develop a fix since Tuesday, after researchers at Citizen Lab, a cybersecurity watchdog organization at the University of Toronto, discovered that a Saudi activist's iPhone had been infected with spyware from NSO Group.
The spyware, called Pegasus, used a novel method to invisibly infect an Apple device without the victim's knowledge for as long as six months. Known as a "zero click remote exploit," it is considered the Holy Grail of surveillance because it allows governments, mercenaries and criminals to secretly break into a victim's device without tipping the victim off.
Using the zero-click infection method, Pegasus can turn on a user's camera and microphone, record messages, texts, emails, calls -- even those sent via encrypted messaging and phone apps like Signal -- and send them back to NSO's clients at governments around the world.
An Apple spokesman confirmed Citizen Lab's assessment and said the company planned to add spyware barriers to its next iOS 15 software update, expected this year. NSO Group did not immediately respond to inquiries on Monday.
Our First Writing Workshop!
Writing for Artists Who Want to Publish (or just get better)
This online workshop is designed to help photographers, and all types of creatives, improve their writing skills for online sites including publications such as Medium.com. Useful for the business environment as well because improved clarity in writing often translates into successful business interactions.
Over the course of four sessions, you'll learn how to translate your thoughts into effective articles and posts that will engage readers. We will cover online style, article construction, self-editing tips, and promotion.
You will also have access to our online workshop community, DerrickStoryOnline, where you can ask questions, share techniques, and show off your work. Your membership to our online community extends pass the workshop itself, so you can continue to share notes with those who share your particular interests.
Our weekly meetings during the workshop itself are via Zoom, with AM and PM sessions available so you can match this event to your busy schedule. Plus, we record each session and make them available to participants for future reference.
You can sign up today and reserve your spot.
Canon and Panasonic Drop Out of NAB Due to COVID-19 Concerns
You can read the entire article on Petapixel.
Panasonic and Canon have announced that neither will be attending NAB this fall as previously planned, joining Sony in pulling out of trade show commitments due to concerns over the spread of COVID-19.
Canon informed PetaPixel that it has canceled plans to attend both the National Association of Broadcasters (NAB) Show in Las Vegas as well as Infocomm in Orlando, Florida. The company issued the following statement:
Due to the ongoing health and safety concerns presented by the COVID-19 Delta variant, Canon has made a carefully considered decision to withdraw from this year's NAB and InfoComm Shows. The communities that NAB and InfoComm represent are something that we will greatly miss this year, but the health and safety of our team members, customers, and potential show guests is our number one priority. Canon will continue our plans to communicate exciting new products and innovations in virtual and remote settings, and our teams all over the world will share our news and updates in the coming weeks. We are continuously monitoring the situation and we look forward to attending events in the future.
While COVID cases have been slightly declining in Las Vegas where the NAB Show is still scheduled to take place from Saturday October 9 through Wednesday the October 13, concerns over safety have now led multiple companies to adjust plans for in-person exhibitions. InfoComm, which takes place in Orlando, Florida, is still scheduled to take place in late October, but the state currently accounts for nearly a quarter of all COVID-19 deaths in the United States.
Virtual Camera Club News
Inner Circle Members: A big thanks to those who support our podcast and our efforts! (And welcome to our new members.) And a big thanks to our iPad mini winner, Kevin McNamara! His favorite repurpose is: "With a Bluetooth connected speaker I use an old iPad as a digital stereo system internet radio and Apple Music."
My Writing on Medium.com: I now have 42 published articles on Medium.com. And if you haven't visited the site, and enjoy good writing on a variety of topics, I suggest that you may want to take a look. You can just go to the home page and enter "Derrick Story" in the search field. And if you like what you read, then follow me!
The New Donation Kit for Carefree Shipping of Found Film Cameras - If you've discovered a film camera that's no longer being used, our new Donation Kit makes it easy to pack and ship. Just visit the Contact Form on thenimblephotographer.com, click the box next to Donating a Film Camera, and let me know what you have. In your note, be sure to include your shipping address.
Affiliate Links - The links to some products in this podcast contain an affiliate code that credits The Digital Story for any purchases made from B&H Photo and Amazon via that click-through. Depending on the purchase, we may receive some financial compensation.
Red River Paper - And finally, be sure to visit our friends at Red River Paper for all of your inkjet supply needs.
See you next week!
Product Links and Comments
There are product links in this article that contain affiliate tags. In some cases, depending on the product, The Digital Story may receive compensation if you purchase a product via one of those links. There is no additional cost to you.
You can share your thoughts at the TDS Facebook page, where I'll post this story for discussion.