This is The Digital Story Podcast #860, September 13, 2022. Today's theme is "Shoot and Be Seen." I'm Derrick Story.
Opening Monologue
Ultimately, we take pictures for ourselves. But sometimes it's nice to share them with others. Posting our images online has become a real "hit or miss" endeavor in terms of views and feedback. Today we're going to look at the photo sharing landscape and explore new options for getting our pictures in front of others. I hope you enjoy the show.
Digital Photography Podcast 860
Tune-In Via Your Favorite Podcast App!

---

Apple Podcasts -- Spotify Podcasts -- Stitcher

Podbean Podcasts -- Podbay FM -- Tune In
Shoot and Be Seen
Now that Instagram has gone to the video dogs, and Flickr is feeling longer in the tooth than ever, what are our options for sharing images with others who will actually look at them?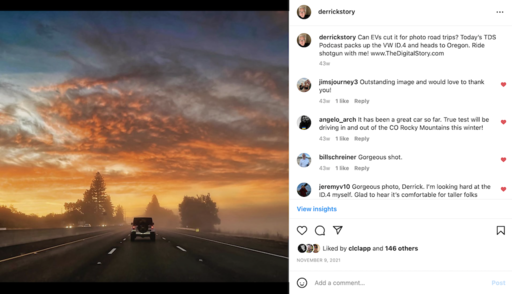 I'll start with a pretty good article titled, 15 Best Social Media Networks for Photographers that was published on photography course.net. It has lots of good details that I won't have time to cover in the show, and I encourage you to go over and take a look.
Social Media Sites They Discuss
Instagram
Pinterest
Twitter
Facebook
Behance
Flickr
Visura
Fstoppers
500px
Vero
YouPic
Exposure.co
Tumblr
TikTok
Camera Clubs
If you're lucky enough to have a camera club in your local area, they often facilitate photographer presentations.
Member Only Groups
Sites like DerrickStoryOnline for Inner Circle Members are designed specifically for members and provide a more intimate and ad-free experience compared to most social media sites.
Interview with John Pemberton about F2.8 Press
You can visit f2.8 Press to order their first publication and to learn how to submit your work for consideration.
New Nimble Photographer Newsletter!
The Nimble Photographer Newsletter is now publishing every Thursday. Readers will enjoy a variety of content spanning from short photo essays, to commentary on weekly events, to reviews of the latest and coolest photo gear.
Because of this rotating content, you won't see the same layout each time. There will be a certain freshness about The Nimble Photographer Newsletter that you typically don't see with other publications.
The Nimble Photographer Newsletter is a valuable addition to our existing community benefits that include TheDigitalStory Podcast, The Nimble Photographer website, TheFilmCameraShop, and Derrick Story on Medium.com.
How to Sign Up
You can Sign Up for Free to the Nimble Photographer Newsletter and receive each edition weekly in your inbox.
I'm looking forward to sharing lots of great content with you.
Tell a Friend
I was thinking the other day about how people love to tell me about their favorite podcasts, which I appreciate!
Then, I started thinking, we should be telling our friends about The Digital Story podcast. It's available on every service that's commonly used: Apple Podcasts, Google Play, Amazon, Spotify, and on and on.
If each or our regular listeners told just one friend about this podcast and encouraged them to listen, those should be substantial numbers.
So let's try it! Tell a friend about the TDS Photography Podcast.
Internal Documents Show Instagram Knows Reels Are Failing
You can read the entire article on PetaPixel.com.
The document, titled "Creators x Reels State of the Union 2022," was published internally at Meta in August and shows that Reels engagement not only fails to keep up even close to what is seen on TikTok but that it is falling, down 13.6% from the previous month. Even more damning, the report shows that "most Reels users have no engagement whatsoever."
Instagram's Reels issue is apparently one of original content, at least in part. The document notes that nearly a third of the content on Instagram is made somewhere else and reposted to the platform, usually indicated by a watermark in a corner. Meta announced a $1 billion creator payout plan last year to try and bolster original content, but the Journal says that it has only doled out about $120 million of that so far.
Meta spokesperson Devi Narasimhan downplayed the report and tells the Journal that the viewing hours noted in the document were "outdated and not global in scope" and while she declined to disclose other numbers, said that Reels engagement is still up month to month.
For the better part of the last year, Instagram bet everything on a shift to video. Last December, Instagram head Adam Mosseri said that it would put a major focus on video features like Reels into the app in 2022 and up until last month made good on that promise. It began testing turning all video posts into Reels in July, tested a full-screen TikTok-like feed, doubled down on its plan even amid backlash later that month, until just days later walked back those plans as big names on the platform pushed back on Instagram's plans to become a TikTok clone.
But even as Instagram appeared to have curtailed its plans to dump photos in exchange for videos, new trends indicated that Instagram could end up losing both markets to TikTok anyway.
Earlier this month, Mosseri admitted that the company had made a mistake and gone "too far into video." Unfortunately, it might be too late to win back fans who had been pleading with the company to rethink its strategy for the last year.
Virtual Camera Club News
Inner Circle Members: A big thanks to those who support our podcast and our efforts! We are having a blast at our new Inner Circle hangout, the private group I've set up at DerrickStoryOnline. We'd love it if you join us. You can become an Inner Circle Member by signing up at our Patreon site. You will automatically be added to the new hangout.
My Writing on Medium.com: I now have 51 published articles on Medium.com. And if you haven't visited the site, and enjoy good writing on a variety of topics, I suggest that you may want to take a look. You can just go to the home page and enter "Derrick Story" in the search field. And if you like what you read, then follow me!
The New Donation Kit for Carefree Shipping of Found Film Cameras - If you've discovered a film camera that's no longer being used, our new Donation Kit makes it easy to pack and ship. Just visit the Contact Form on thenimblephotographer.com, click the box next to Donating a Film Camera, and let me know what you have. In your note, be sure to include your shipping address.
Affiliate Links - The links to some products in this podcast contain an affiliate code that credits The Digital Story for any purchases made from B&H Photo and Amazon via that click-through. Depending on the purchase, we may receive some financial compensation.
Red River Paper - And finally, be sure to visit our friends at Red River Paper for all of your inkjet supply needs.
See you next week!
You can share your thoughts at the TDS Facebook page, where I'll post this story for discussion.