This is The Digital Story Podcast #870, November 22, 2022. Today's theme is "Totally Fun Holiday Gift Guide for Photographers." I'm Derrick Story.
Opening Monologue
There are many accessories and optics that can make a photographer's work more creative and efficient. And sometimes we don't even know that those helpful items can be. But maybe after today's podcast you'll have a better idea. Here are my suggestions for fun and functional goodies for the visual artists in your life.
Digital Photography Podcast 870
Tune-In Via Your Favorite Podcast App!

---

Apple Podcasts -- Spotify Podcasts -- Stitcher

Podbean Podcasts -- Podbay FM -- Tune In
Totally Fun Holiday Gift Guide for Photographers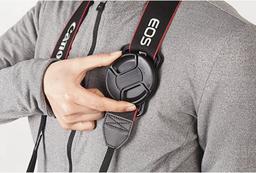 Fujifilm Japan is temporarily ceasing X100V orders due to having too many to process
You can read the entire article on DPReview.com.
Fujifilm announced the release of its X100V APS-C digital camera back in February 2020. Now, nearly three years later, Fujifilm Japan has announced it is having to temporarily stop orders due to having too many back orders, according to a new report from FujiRumors.
In the public notice posted to Fujifilm Japan's website, it reads 'we have received orders that have greatly exceeded our initial plan, and we are unable to keep up with the supply of products, so we will temporarily stop accepting orders from today.' Based on the public notice being issued only by Fujifilm Japan for now, it appears as though this cessation of new orders will only be affecting the Japanese market. We have contacted Fujifilm representatives to confirm whether or not similar measures will be put in place in other regions.
Derrick Note: B&H posted a Request Assistance button on their site for the camera stating: "Unfortunately, our supplier cannot provide an accurate timeframe so we have suspended backorders for this item. Reach out to our Experts (available via Live Chat or Phone) to find an alternative solution tailored to your needs." and Amazon Marketplace is selling "renewed" cameras for $2,169.
The 2023 TDS Photography Workshop Lineup
Inkjet Printing Workshop for Photographers Online Workshop - Nov/Dec 2022 and Nov/Dec 2023. SOLD OUT

Maximizing Your Micro Four Thirds Camera Online Workshop - Feb. 2023.

Ultimate B&W Photography Online Workshop - April 2023

Pt. Reyes In-Person Photography Workshop - May 2023

Infrared Photography Online Workshop - July 2023

Sedona Arizona In-Person Photography Workshop - Oct. 2023

Wine Country in Autumn In-Person Photography Workshop - Nov. 2023
You can sign up for any of these events by visiting our Photography Workshops Page. Inner Circle Members receive a 10 percent discount on all events.
The Average US Adult is Hoarding Over $2,000 of Unused Tech: Report
You can read the entire article on Petapixel.com.
New research has revealed that the average U.S. adult is sitting on over $2,000 worth of unused tech -- with the majority of consumers surveyed owning at least one camera in their home that they are not using. According to new data from camera reseller, MPB, alongside research provider CINT, the U.S. is hoarding over $650 billion worth of technological devices they do not use.
In MPB's online survey, which was completed by 13,000 adults, two-thirds of Americans revealed they have at least one piece of unused tech in their home. The average U.S. adult is estimated to be sitting on $2,459 worth of unused tech.
The average amount consumers spend every year to keep up with the latest technology is over $500. And two-thirds of consumers surveyed feel that the cost of technology is too expensive.
According to the survey, millennials and Generation Z are holding on to the most unused tech. Adults aged between 18 to 34 have an average of $3,691 worth of unused tech in the U.S. 56 percent of them have at least one unused camera in their home.
When asked why they had not sold an unused piece of tech, the two most popular reasons consumers gave were that they did not think they would receive much money in return and they or someone close to them might need it one day.
My Twitter Account Now Permanently Suspended
Without warning and for no reason.
Virtual Camera Club News
The Nimble Photographer Newsletter is now publishing every Thursday. Readers will enjoy a variety of content spanning from short photo essays, to commentary on weekly events, to reviews of the latest and coolest photo gear.
Inner Circle Members: A big thanks to those who support our podcast and our efforts! We are having a blast at our new Inner Circle hangout, the private group I've set up at DerrickStoryOnline. We'd love it if you join us. You can become an Inner Circle Member by signing up at our Patreon site. You will automatically be added to the new hangout.
My Writing on Medium.com: I now have 51 published articles on Medium.com. And if you haven't visited the site, and enjoy good writing on a variety of topics, I suggest that you may want to take a look. You can just go to the home page and enter "Derrick Story" in the search field. And if you like what you read, then follow me!
The New Donation Kit for Carefree Shipping of Found Film Cameras - If you've discovered a film camera that's no longer being used, our new Donation Kit makes it easy to pack and ship. Just visit the Contact Form on thenimblephotographer.com, click the box next to Donating a Film Camera, and let me know what you have. In your note, be sure to include your shipping address.
Affiliate Links - The links to some products in this podcast contain an affiliate code that credits The Digital Story for any purchases made from B&H Photo and Amazon via that click-through. Depending on the purchase, we may receive some financial compensation.
Red River Paper - And finally, be sure to visit our friends at Red River Paper for all of your inkjet supply needs.
See you next week!
You can share your thoughts at the TDS Facebook page, where I'll post this story for discussion.