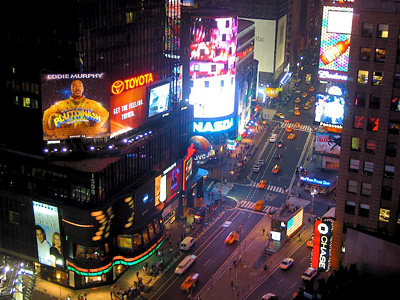 You travel photos aren't limited to locations where the tour bus stops. One of the first things I do, after dropping my suitcase on the bed, is look out the hotel window for a photo opportunity. Bright, colorful lights from a high vantage point often translate into beautiful nighttime images.
If your hotel window doesn't open, and they usually don't, just apply the standard "shooting through glass" technique. I like to first put a rubber lens hood on the camera to protect the front of the lens, but it isn't necessary if you're careful. Dim the room lights, or turn them off all together (so you don't get reflections in the window), then position the front of the lens barrel as close to the glass as possible. Make sure you turn your flash off. Then hold the camera very steady and shoot a couple frames. If you get camera shake because of the low light, then increase the ISO to 400 or 800 and try again. You can use a tripod if one is handy.
These types of images are particular good for "establishing shots" at the beginning of slideshows. And they often capture the interest of your viewers from the get-go.
Technorati Tags: photography, technique, tips