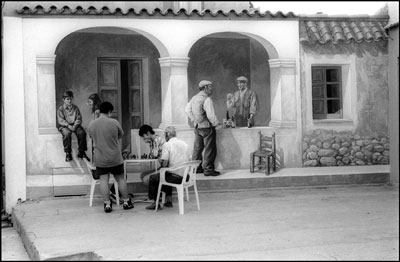 "I was walking in the little Sardinian town of San Sperate, well known for its "murales" or wall paintings and came across this scene outside a coffee shop," said Nina Contini Melis. "Several people playng chess at a table in the courtyard, who seemed to be perfectly in proportion to the painted scene on the side of the coffee shop. I decided to turn it into BW because I liked it better that way."
Nina used a Nikon 70S to capture this interesting juxtaposition shot.
If you have an interesting candid you'd like to share, take a look at our Submissions page, then send us your Grab Shot. If we publish it, you'll receive an ultra cool custom carabineer keychain.
Technorati Tags: candid, photography