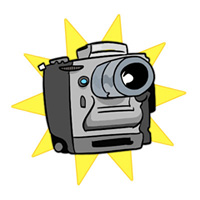 If you tuned-in to my last podcast, you know we've been kicking around an idea called "Photo Assignment." Well, we're kicking no more. It's a go.
You can always refer to the details on our Submissions page. But I'll provide the skinnies here too.
Each month you can participate in a photo assignment with other members of The Digital Story audience. The topic for the assignment will be revealed in the first podcast of the month. Then all you have to do is photograph your interpretation of that theme, and send it in via email.
Title your subject line: Photo Assignment [month, year]. Attach your entry making sure that it is no wider than 400 pixels. Include a sentence or two about why you took this approach, the camera you used, and any setting details that you think are important. Address your email to: derrick@thedigitalstory.com.
Each month at least one winner will be published on The Digital Story site. Sometimes multiple entries will be featured. You can review past winners by choosing "Photo Assignment" from our "Jump To" menu in the upper corner of the web page. Enter up to 3 photos for each assignment.
The theme for January? Ice. Start looking for those frozen masterpieces now...
Technorati Tags: photography, technique