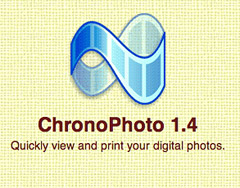 Even though I use Photoshop CS2, Elements 4, Aperture, Lightroom, and iPhoto 6, I like to play with new digital photography applications that are fun and useful. ChronoPhoto 1.4 is a joy to use and is the latest addition to my photography toolbox.
There are times when I have a folder of images that I simply want to view; they could be working files of mine or something that someone else has shared with me. I don't necessarily want to add them to my Aperture or iPhoto libraries, I just want to enjoy the shots, look at the EXIF data, and maybe play a quick slideshow. This is where ChronoPhoto shines. It lets you work with a batch of pictures and stays out of your way while doing so. No long term commitment here, just a good time.
And get this... it works as well with RAW files as JPEGs. ChronoPhoto uses Dave Coffin's dcraw engine to provide RAW support for over 200 cameras. Basically ChronoPhoto decodes the images on the fly and lets you view their thumbnails and enlargements. The rendering of the images is absolutely gorgeous. You'll feel like a better photographer just by using this application. Plus you get loads of EXIF data for reference, and can add comments and mark your images too.
ChronoPhoto keeps track of the originals on your hard drive. So you store your pictures where you want to store them. It has a "comparison" window called the Panorama that lets you look at specific photos together, then note your favorites with the marking pen. Simple, but effective.
There are a couple of gotchas. I couldn't get the transitions option to work for the slideshows, so only basic cuts were available. Plus the slideshow doesn't automatically take you back to your thumbnails page after it runs; you have to hit the ESC key to do that. Other than those two minor nits, everything else ran smoothly.
You can download ChronoPhoto 1.4 and try it free for 30 days. If you like it, you can buy it for $20 online. The company, Trois Bambous, is based in France, as is their distributor. My U.S. Visa card worked for purchase, but the Mastercard would not. Something to keep in mind when you're ready to buy. ChronoPhoto is for Mac OS X only.
Technorati Tags: digital photography, product review