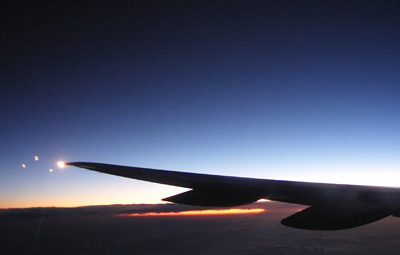 A great way to pass the time while flying is to take pictures. That's why I always get a window seat if one is available. Here are a few tips to get the best shots possible.
Start by cleaning off the glass to remove smudges and hand prints left by the child that had your seat on the previous flight. Then turn off the flash; these are existing light shots only. I usually leave the white balance setting on "auto" and correct the color, if necessary, later on the computer. (BTW: one trick I've learned with daytime airplane window shots is that Photoshop's auto color correction works great on these types of images. Try it.) On digicams, I then set the focus on "infinity" or "landscape" so the sensor isn't fooled by the glass, and to prevent it from spending too much time trying to focus on clouds that don't have distinct edges.
Put the camera lens barrel right up against the glass (make sure, however, you don't have glass-to-glass contact with the front element of your lens). If you have a lens hood, use it. The idea is not to get reflections from the window in your shots. Now fire away.
I captured this image with a Contax SL 300R compact while flying from Florida to California. ISO was set to 200. Exposure was 1/4 of a second at f-2.8. I was able to get away with this long shutter speed by steadying the camera against the glass. I chose not to up the ISO to 400 because this camera gets a little noisy at that setting.
This shot is in celebration of Julianne Kost's new book, Window Seat. It's a beautiful work filled with lots of great Photoshop technique. I'll be attending a reception in Julianne's honor tonight at Adobe. Will let you know if I glean any further insights.
Technorati Tags: digital photography, tips