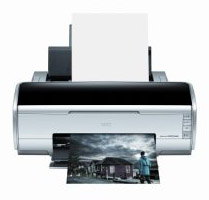 The Epson R2400 is the new workhorse printer for the Story Photography studio, beating out the latest offerings from Canon and HP. I had a chance to get to know the R2400 during this past rainy weekend, and I thought I pass along my first impressions.
I based my buying decision on a few key factors. First, I was impressed with the new UltraChrome K3 inks. They are beautiful and take archival permanence to a new level... 100 years plus. Second, Epson's downloadable ICC Printer Profiles enable me to get perfect color matching right out of the box. Why every printer manufacturer doesn't provide these is beyond me. Third, Epson's printer software for both Mac and Windows is excellent and easy to use. And finally, the B&W output from the R2400 is gorgeous.
The R2400 comes with a FireWire cable, but since I'm often printing from a PowerBook that only has one FireWire 400 port, I opted to use my own USB cable. The printer works equally well via FireWire or USB 2.0. A full set of K3 cartridges comes with the unit, so you can fully set up and test without having to buy ink. I have an extra set, but after a weekend of printing both B&W and color, I haven't had to replace any of the 9 colors yet.
If you like to print on matte surface, as I do, keep in mind that you have to switch one of the cartridges to do so. I recommend that you batch your printing to reduce the need to swap out cartridges. It only takes a few minutes for the R2400 to go through the reset process when you make a change. That's not forever, but it sure feels like it when you're anxious to make a print.
The paper feed is wonderful, and I was able to easily print on a variety of surfaces without a single jam. The top loading feature, even for 13" x 19" papers, is a true convenience and space-saver.
Finally, the output is outstanding. Accurate color, no smears, true photo quality, and fast printing speed. The R2400 will set you back about $800 plus $14 per cartridge. That's a lot of money for casual printing. But if you like making your own fine art enlargements (up to 13" x 19") and want prints that last for a long, long time, this is a highly recommended printer.
Technorati Tags: digital photography, equipment, product review