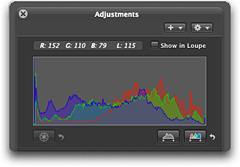 If you have Aperture already, version 1.1 is available right now via Software Update. If you haven't purchased it yet, Apple has lowered the price to $299 (down from the original $499).
I've been using Aperture on a PowerBook from the beginning, and have been waiting for the 1.1 release to provide better performance when working with big RAW files. That day is here. I downloaded the update and went to work.
Many people will comment on the new color values readout that's available in the HUD and the Digital Loupe. Nice addition, but the three truly important changes are improved RAW decoding, faster performance on a PowerBook G4, and UB compatibility on the new MacBook Pro. After just a morning of testing, Apple appears to deliver on all three counts.
When you first fire up 1.1, you're greeted with this screen (below). The library update went smoothly on one of my smaller libraries, and I'm going to test updating a bigger one later today. The workflow was smoother on the G4 that previously with the 1.0 version, and I'm looking forward to burning through a large project with this update, just so I can get to know how all the different functions perform.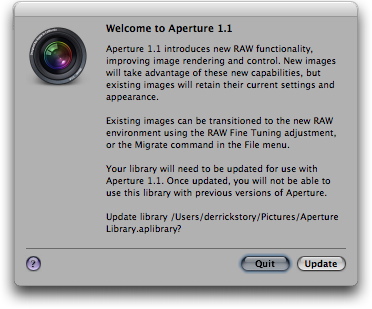 As for RAW decoding... well, that's going to take some side by side testing with 1.0 decodes. I do like the new RAW Fine Tuning control in the HUD. It allows me to stick with my previous 1.0 decode, or switch to the new 1.1 interpretation with added controls. My first impression is that the new rendering of my .CR2 files from a Canon 5D and Digital Rebel XT look good. Very good.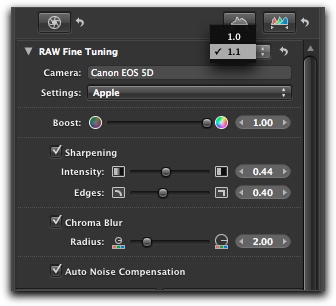 Of course the real temptation is to get a MacBook Pro now that Aperture is Universal Binary. Alas, if only they had the 17" model ready. Overall, I think this is a fine upgrade, and I'm looking forward to testing all of its nooks and crannies.
Technorati Tags: photography, product review