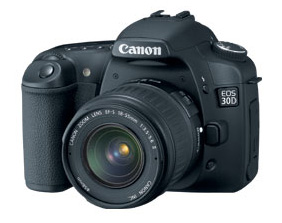 DP Review has published an exhaustive look at the new Canon 30D. Among their "pros," they cite excellent resolution with very good per-pixel sharpness, welcomed spot meter, low noise at high ISOs, great long exposure capability, spacious 2.5" LCD monitor, and excellent construction.
For the "cons," the auto white balance has only average performance, and the ISO sensitivity is not displayed on the top panel. Even though some people have complained that there wasn't a megapixel upgrade with this model, DP Review said there is really little "real world" difference between 8 and 10 megapixels.
You can read the complete report here.
Technorati Tags: digital photography, equipment, product review