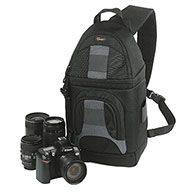 We love our photo bags almost as much as the cameras tucked safely inside. This week I chat with Suzanne Caballero, who is a camera bag expert. She works for Lowepro; they've been designing great bags for over 30 years.
During our conversation, Suzanne shared a few stories about famous photographers she's met through her work as Marketing Communications Manager. First she talked about Greg Gorman, who is a well known portrait shooter with a wonderful studio in Northern California. Suzanne also talked about Seth Resnick, a legend too, who is doing much to promote digital photography across the world. She even chats about her first photo expedition to Death Valley with John Isaac. Great stuff!
I asked Suzanne for some staff recommendations for Lowepro bags. Here are a few she thought you'd be interested in:
And finally, here's the link to first story and the second story she told about Lowepro bags saving more than just camera gear.
Listen to the Podcast
Now that I've piqued your curiosity, it's time to listen to today's audio show titled, "Camera Bag Chat." You can download the podcast here (34 minutes).
Technorati Tags: digital photography, equipment, podcast