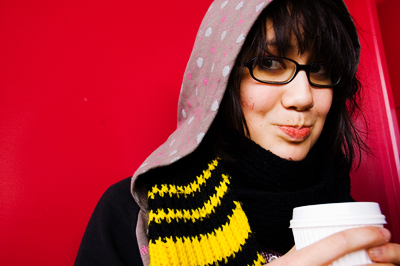 "I love Athletics Day. Rarely in the school year is there an event where can you can capture such a large spectrum of colors and people in a sunlit environment," said Michelle Kong. "Granted, considering the fact that it was a compulsory school event, and the fact it turned out cold and rainy, there were a few sour faces among the crowd. However, it's hard not to have a good time when you're with so many of your friends around you..."
Michelle captured this grab shot of her friend with coffee in hand using existing light and a Nikon D70. The ISO was set to 500 with an exposure of 1/160th @ f-5.6. She got nice a close and used a focal length of 24mm.
If you have an interesting candid you'd like to share, take a look at our Submissions page, then send us your Grab Shot. If we publish it, you'll receive an ultra cool custom carabineer keychain.
Technorati Tags: candid, digital photography