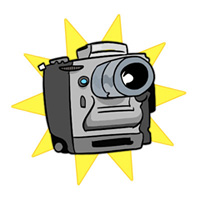 In digital imaging, your master files are the equivalent to film negatives in chemical photography. I recommend that you start by capturing the highest quality possible with your camera. If you shoot RAW, you're already getting the most your camera has to offer. Jpeg shooters need to set their preferences to the highest quality settings available.
Then, after you've uploaded the files, you can make copies of your master files for your various needs. I provide a nice overview of this workflow in this week's podcast. Included in the discussion is how to create a master movie then export versions for specific output. This can be particularly handy for your FotoMagico Slideshow Showcase entry.
Listen to the Podcast
Now that I've piqued your curiosity, it's time to listen to today's audio show titled, "The Concept of Master Files." You can download the podcast here (32 minutes).
Technorati Tags: digital photography, podcast