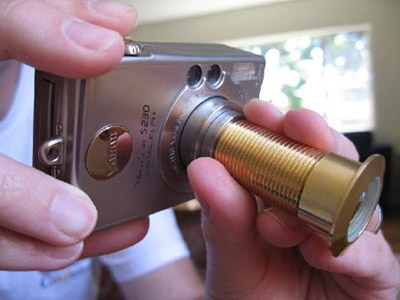 Photo by Make Magazine
Here's a new thing to do with your compact camera: hold a peephole viewer to the front lens for "do it yourself" fisheye view of the world. (Peephole viewers are available at any hardware store for cheap.) The creative folks at Make Magazine demonstrate their spin on the concept based on a paper by H. G. Dietz at the University of Kentucky.
The Make Magazine version is simple. Hold the peephole viewer in place and take a picture. This gives you a superwide view of the world. (Thanks to Phil and the crew for posting this cool idea.) Mr. Dietz goes into more detail about this technique and discusses mounting the viewer on a variety of cameras.
If you want to go the other direction and create a super-telephoto for your compact, take a look at our earlier post on digiscoping.
Technorati Tags: equipment, digital photography, technique, tips