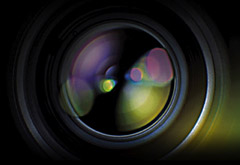 Bang bang! First Adobe shoots out Lightroom Beta 4, then Apple drops the Aperture 1.5 bomb. I would say that Apple has surprised a lot of people with new functions such as Flexible Library Management (managed library or reference files), XMP sidecar files for exported images, and luminance-based sharpening.
There are lots of little goodies too, such as drag and drop Jpegs out of your Aperture library, Apple Remote capability for Aperture presentations, iPod syncing, iLife integration, and third-party plug-ins. Hmmm, maybe those aren't so little after all. And the really good news is that this update is free to current Aperture owners, and should be available via Software Update on Friday.
You might want to read Ben Long's First Look at Aperture 1.5 on CreativePro.com. He's spent some time with the app and has a good feel for its features and performance.
Technorati Tags: Mac DevCenter