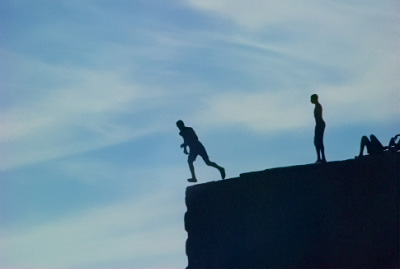 "While eating lunch at a port-side fish restaurant in Acco/Acres (near Haifa, Israel)," said Yuval Yeret, "I noticed some local boys jumping from the old city walls into the water. I switched into continuous-shot mode and tried to grab some interesting shots. This was in the afternoon (15:06 to be exact), and since we were in daylight savings time, the sun was already on its way down. We had significant backlighting there, which makes this an almost total shilouette. It adds to the shot I think."
"I think the best of the bunch is this one, capturing the act of takeoff..."
Yuval used a a Nikon D80 and a Nikkor 18-200 VR lens set to 135mm. ISO 250 in aperture priority mode.
If you have a candid you'd like to share, take a look at our Submissions page, then send us your Grab Shot. If we publish it, you'll receive an ultra cool custom carabineer keychain.
Technorati Tags: candid, digital photography, grab shot, The Digital Story