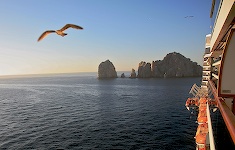 I'm on a plane this morning to Tampa, FL where I will then board a Holland America ship for the Western Caribbean. I'm going to have lots to report from this trip. First, our stops are at Key West, Belize City, Santo Tomas, and Costa Maya. I hope to find some interesting photographic subjects at these destinations that I can report back to you.
I'm also teaching a week long digital photography course with Ben Long as part of the Geek Cruises. I like this format because we're in class while at sea, then get to shoot when in port. I'll try to capture some gems from these class discussions and post them here on TDS.
So be sure to tune in this week to read the anecdotes and see the images from this adventure in the Western Caribbean. More to come...
Technorati Tags: digital photography, The Digital Story