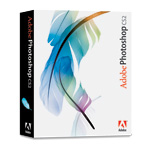 Adobe has updated its Camera Raw plug-in (for Photoshop CS2 and Elements) and its DNG converter. This latest version includes Raw profiles for 13 new cameras, including the Canon Rebel Xti (400D) and the Nikon D80. It also includes compatibility for other cameras that I've discussed on TDS, such as the Olympus SP-510 UZ, Panasonic DMC-LX2, and the Pentax K100D.
The update is free. Mac users can download here and Windows shooters should go to this page to grab it. I recommend that you download the update now while you're thinking about it...
Technorati Tags: digital photography, software, The Digital Story
---
Sponsor Note...
You're Not Ken Burns -- But FotoMagico slideshows are so good that people will believe that he helped you.