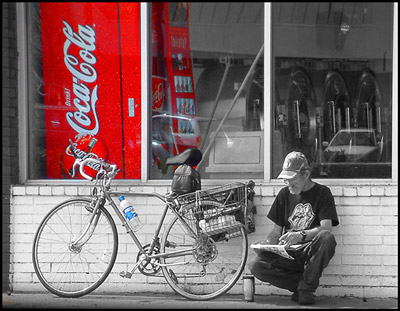 "We were going on a cruise for spring break and had hired a limo to go from the airport to Long Beach," said Neil Martin. "We had time to spare, so the driver took us for a tour of L.A. and one stop was the Santa Monica pier. After walking the pier and loading back into the limo, I spotted this gentleman and grabbed the shot out the window."
"I liked the color contrast between the Coke machine in the laundromat window and the Pepsi bottle on his bike. Back home, I used Photoshop Elements to isolate and intensify the two colors. By selecting the brush tool on the color setting and working carefully, I eliminated all the other colors."
Neil used a Fuji Fine Pix S602 Zoom set to f/2.8, 1/80 sec. at 200 ISO.
If you have a candid you'd like to share, take a look at our Submissions page, then send us your Grab Shot. If we publish it, you'll receive an ultra cool custom carabineer keychain.
Technorati Tags: candid, digital photography, grab shot, The Digital Story
---
Sponsor Note...
You're Not Ken Burns -- But FotoMagico slideshows are so good that people will believe that he helped you.