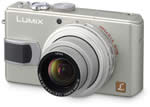 Last month, I reported on the Panasonic Lumix DMC-LX2. Photography Blog had given the camera a decent review, but indicated that Panasonic hadn't really made much progress controlling image noise. But two more noteworthy reviews have been published since my October 11 posting. If you're interested in this camera, you might want to keep reading.
PopPhoto.com, one of the most respected technical reviewers in the business, gave the Lumix DMC-LX2 a very glowing review, calling it:
"A pocketable alternative to a digital SLR, the 10.2MP LX2 packs a gorgeous 2.8-inch LCD screen with a full 16:9 aspect ratio, loads of controls, improved burst rate, true high-definition video recording, a new image processor, and 16MB of built-in memory. It's even available in black in addition to silver. Best of all: its performance on our Certified Lab Tests -- and its "steal-me" price."
Then, I just read another review on Imaging Resource that also gave the Panasonic very high marks, saying, "While the Lumix LX2 could certainly be enjoyed by beginning users, since it has great automatic functionality, it's the photo enthusiasts who will get the most out of this sophisticated and snazzy little model."
Bottom line for me: I'd really like to shoot with this camera, especially in Raw mode, and see for myself. But on paper, I trust these reviewers and am now recommending the camera for advanced amateurs who want a pocketable Raw shooter.
Technorati Tags: product review, The Digital Story