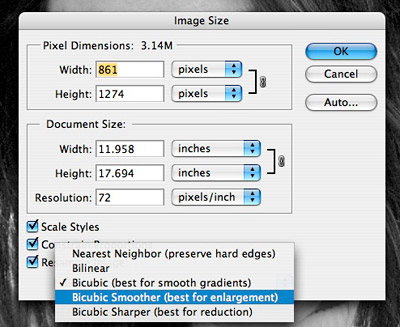 How many megapixels do you really need to make big enlargements? You'd be surprised how much you can do with your 6-8 megapixel camera if you learn how to intelligently "sample up." It's a process you can use in Photoshop CS where you let PS add pixels to your image to increase resolution.
My photographer friend, Ben Long, recently tested different methods for "sampling up," and we both agree after looking at lots of prints, that Photoshop's "Bicubic Smoother" produces the most photographic results.
In this episode, I discuss how to sample up using the "Image Size" dialog box in Photoshop, and explain how you're existing camera can probably produce much bigger results that you'd initially expect.
Listen to the Podcast
Now that I've piqued your curiosity, it's time to listen to today's audio show titled, "Sample Up." You can download the podcast here (20 minutes).
Technorati Tags: digital photography, podcast, The Digital Story
---
Sponsor Notes...
Add Magic to Your Slideshows -- FotoMagico presentations are so amazing that your audience will be asking how you did it.