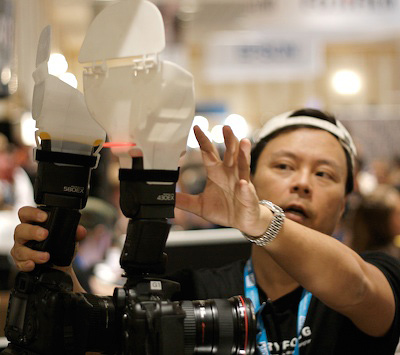 Gary Fong has a new gizmo for your flash. The Whale Tail, shown here, will fit on most strobes, provides adjustable directional light, and includes optional color balance, warming, and cooling filters. The device will be available in April on Gary Fong's web site for about $75.
Gary attracted big crowds at WPPI as he demoed the new Whale Tale. He is part showman, part photographer, and has quite the inventive streak. Most people seemed impressed with how the Whale Tale softened strobe light and reduced shadows.
If you get one once they're available, drop me a line with how you feel it performs, and I'll post a follow up.
Technorati Tags: The Digital Story
---
Sponsor Note...
ExpoDisc Custom White Balance -- Simply Better Color. Simply Better Pictures. Visit www.expodisc.com