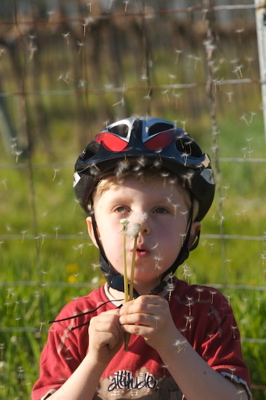 "The pic shows Jakob, my elder son," says Paul Vanovertveld. "Spring is already everywhere and naturally the dandelions attracted him. I was lucky to get some good shots."
Paul used a Canon 20D set to Aperture Priority mode (f-5.0), 1/200th sec., ISO 200, lens set to 105mm.
And I think we should take a moment to celebrate our 100th Grab Shot. By all of you sharing your fine work, you've helped create a more interesting destination for all of our virtual camera club members. I'm going to think of some way to further acknowledge this, but for the time being, I want to say "thank you!".
If you have a candid you'd like to share, take a look at our Submissions page, then send us your Grab Shot. If we publish it, you'll receive an ultra cool custom carabineer keychain.
Technorati Tags: candid, digital photography, grab shot, The Digital Story
---


Join Derrick Story for a Digital Photography Field Trip in Orlando Florida on May 11. And don't miss his sessions on Camera Raw and Photoshop Lightroom. CRE8 Conference - May 9-11, 2007