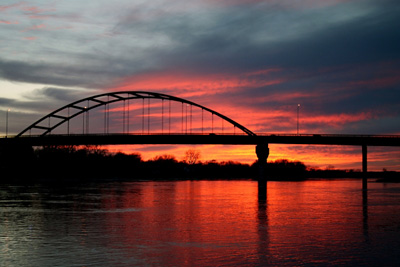 "A friend and I went out shooting for fun one night," said Thomas M. Loftus. "This bridge, the Veteran's Memorial Bridge, crosses the Missouri River between Sioux City, IA and South Sioux City, NE, suddenly had a blazing backdrop. We were certainly in the right place at the right time. Some minor color adjustments were done and some distracting lights in the background cloned out."
Thomas captured this glorious image with a Canon Rebel XT, kit 18-55mm Lens at 37mm, f/5, 1/15 sec., auto white balance.
If you have a candid you'd like to share, take a look at our Submissions page, then send us your Grab Shot. If we publish it, you'll receive an ultra cool custom carabineer keychain.
Technorati Tags: candid, digital photography, grab shot, The Digital Story
---


Join Derrick Story for a Digital Photography Field Trip in Orlando Florida on May 11. And don't miss his sessions on Camera Raw and Photoshop Lightroom. CRE8 Conference - May 9-11, 2007