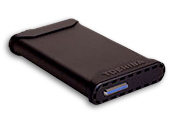 I have this theory that as my Aperture and Lightroom libraries grow in size, so will portable hard drives to house them. I've just moved up from 120 GB portables to 160 GB models to accommodate my burgeoning photo collections.
Now, Toshiba has provided me with a glimpse of the future with its just announced 200 GB USB 2.0 portable drive that includes back up software for Mac and Windows. The software works in concert with the drive providing one-button back up. This could be especially handy for those who aren't using Aperture or Lightroom and don't have built-in photo management back up solutions.
The Toshiba drive also features shock mounting for durability on the road, and includes a 4-foot USB cable. You can buy the drive directly from Toshiba for $210.
Personally, I prefer FireWire drives. They just seem to work slightly better with my Macs. But this Toshiba drive is alluring. And if you get one, please send me mail with feedback.
Technorati Tags: digital photography, The Digital Story