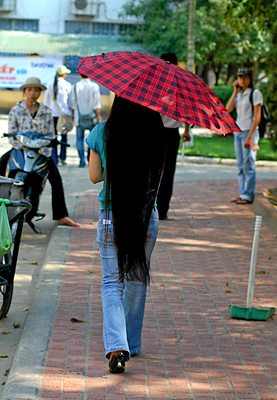 "While walking through one of the universities in Hanoi (Vietnam), this women with incredibly long hair walked by," said David-Emil Wickstrom. "My vietnamese friends urged me to take a picture, so I did."
David used a Nikon D70s in Aperture Priority mode, f/2.8 @ 1/1000th of a second.
If you have a candid you'd like to share, take a look at our Submissions page, then send us your Grab Shot. If we publish it, you'll receive an ultra cool custom carabineer keychain.
Technorati Tags: candid, digital photography, grab shot, The Digital Story