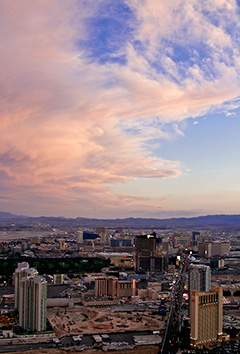 The ubiquitous self timer -- everyone has one, most forget to use it. In this episode I cover some of my favorite uses for the self timer, as well as remote releases. This simple function setting on your camera can help you get razor sharp images, even in less than perfect lighting.
Las Vegas Twilight by Derrick Story. Captured from the Stratosphere at the end of the Strip using the self timer with the camera resting on a flat surface.
Monthly Photo Assignment
Last month's assignment, Before & After, was so compelling I spent some time during the show discussing its results. I think there is much to be learned from the work that our club members shared.
I also discuss this month's photo assignment, Pattern. Keep your eyes peeled for the patterns that are all around us. You can read more about how to submit on our Submissions page. Deadline for entry is July 31.
Listen to the Podcast
Now that I've piqued your curiosity, it's time to listen to today's audio show titled, "Self Timer Tricks." You can download the podcast here (23 minutes). You can also subscribe to the podcast in iTunes
Want to share photos and talk with other members in our virtual camera club? Check out our new Flickr Public Group. It's a blast!
Have you looked at the Park by the Numbers Camera Phone Project? If you have a camera phone, you've got to check this out!
Technorati Tags: digital photography, podcast, The Digital Story
---
Sponsor Notes...
Add Magic to Your Slideshows -- FotoMagico presentations are so amazing that your audience will be asking how you did it.