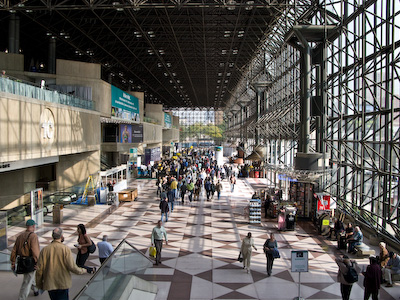 A comment I heard repeatedly touted the "quality" of PhotoPlus Expo in NYC. I have to agree. This event has become one of my favorite photography expos.
As you walk the floor passing by Canon, Nikon, Epson, HP, Sony, Lowepro, Adobe, Apple, O'Reilly, Lynda.com, and on and on, you get a real sense of businesses that have their trade show act together. There's not a lot of junk or blaring noise. The booths are well-designed and professionally staffed. You can learn about new products at PhotoPlus and actually have conversations with staff about them.
The Javits Convention Center, pictured here, contributes to this atomosphere. It is bright, airy, and supports lots of services including an excellent food court. And it's easy to navigate. The morning light is particularly beautiful as it streams in through the giant glass walls.
In terms of announcements, the bulk of the activity was on the hardware side. New Lensbaby 3GPL, SanDisk 8GB Extreme III SDHC card, Sony PictureStation, Olympus lenses, Canon telephotos, Nikon wireless accessories, Epson Exhibition Firer Paper, and a new T-Max 400 BW film from Kodak, were just a few of the releases. However, software-wise, I did spend some time with DxO Labs and their new DxO Optics Pro application for Raw processing. I'll follow up with more information on that after testing. You can get a nice overview of the show announcements on the CameraTown PR page.
The booth demos were also impressive. Apple was showing off Aperture, Adobe both Lightroom and Photoshop CS3, Nikon and their NX software -- just to cite a few big names. But every stop seemed to have something interesting to offer.
PhotoPlus Expo might be an event you'll want add to your calendar for 2008. It's a great place to research products and get back in touch with the East Coast photography community. Smart people to talk to, lots to see and do.
Technorati Tags: digital photography, equipment, The Digital Story