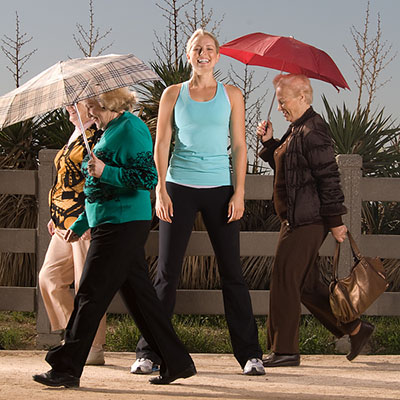 "On a warm, bright, sunny day in Santa Monica, I was shooting promo shots for Jenna Phillips of Mission Possible when three warmly dressed, umbrella carrying ladies walked right through my set," said Joshua Targownik. "I stood up as they passed and waved them through, but kept my finger on the shutter release. When they were in frame, I snapped a shot and startled all three of them with a loud pop from my studio strobes. They laughed it off and kept going, and it turned out to be one of those photos that I couldn't have planned any better."
If you have a candid you'd like to share, take a look at our Submissions page, then send us your Grab Shot. If we publish it, you'll receive an ultra cool custom carabineer keychain.
And you can view more images from our virtual camera club in the Member Photo Gallery.

Events! See the TDS Event Calendar for photography workshops, speaking engagements, and trade show appearances.
---
Technorati Tags: candid, digital photography, grab shot, The Digital Story