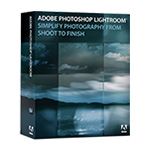 The next time you fire up Adobe Lightroom, you'll be asked if you want to download the 1.3.1 update that is primarily a bug and compatibility fix. Adobe also released Camera Raw 4.3.1 that fixes support for the Nikon D100 and the Olympus E-3. You can download both the Mac and the Windows versions of ACR from the Adobe site.
Microsoft released the HD Photo Plug-In for both Mac and Windows that allows you to open and save any HD Photo file -- .wdp or .hdp -- in Adobe Photoshop.
And finally, Sigma updated their Sigma Photo Pro to 2.3. This is their application for processing files captured with Sigma cameras.
Technorati Tags: digital photography, software, Technology, The Digital Story