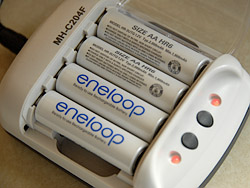 I use AA batteries for a few of my digicams and for all of my electronic flashes. When I have a big event, I can go through 6 sets (of 4 batteries) in a shoot. One of my frustrations is that, if I haven't used a set of NiMHs for a few weeks, the batteries can be partially drained when I put them in the device, giving me only half the shooting time compared to a freshly-charged set.
According to Mike Pasini over at Imaging-Resource, Sanyo's new Eneloop AA NiMH batteries have "a new super lattice alloy which increases the electrical capacity of the battery, reduces the internal resistance and allows higher discharge currents -- all good stuff in a digicam."
Mike and company get into some good battery specs in the article, and it's worth taking a closer look to learn what an improvement these new cells are. And the best news? You can buy a kit of 4 batteries and a charger for about $20. If you already have a NiMH charger, you can buy the batteries alone for for just $9 a set. What a great stocking stuffer for your favorite photographer (even if that's you).
Technorati Tags: digital photography, gadgets, product review, Technology, The Digital Story, Batteries